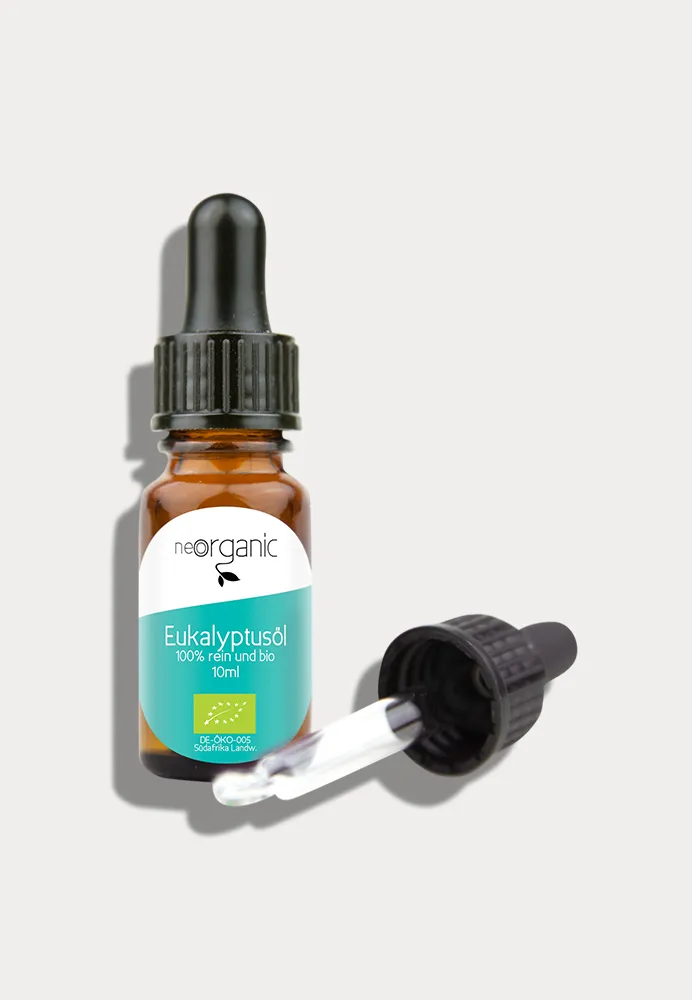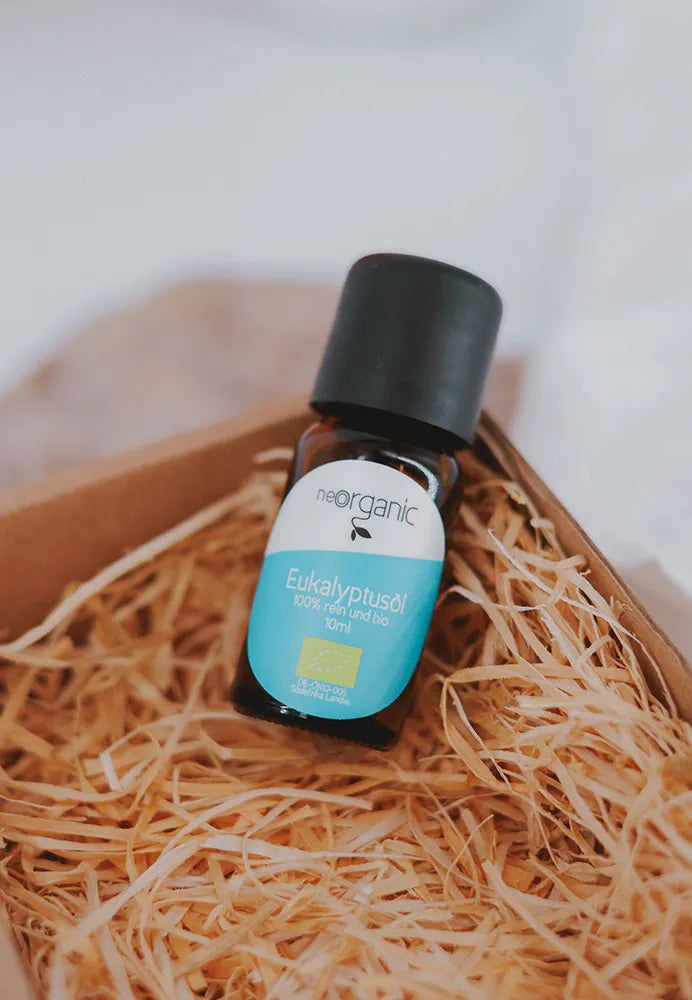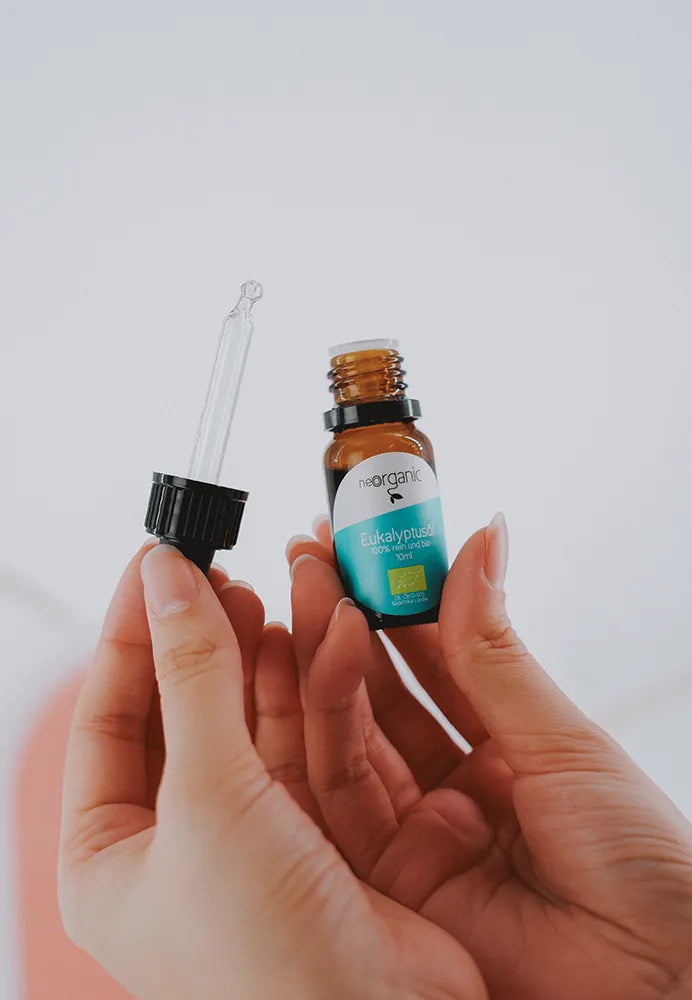 Organic eucalyptus oil (10 ml)
❤️ Why we love the product
✓ from controlled organic cultivation
✓ Vegan
✓Made in Germany
The organic eucalyptus oil (Eucalyptus radiata) from neoOrganic is balm for body and soul. Eucalyptus is considered a natural remedy for colds and respiratory diseases and has a number of positive effects on health. The essential oil is 100% organic and made without artificial preservatives or other additives. It is also obtained through gentle steam distillation of the leaves. The oil from eucalyptus radiata smells sweet and mild and can be used in various ways: for ingestion, inhalation and rubbing into the skin. But it can also be used in an aroma lamp and brings a pleasant scent into your home.
Raw materials from controlled organic cultivation: 100% natural essential BIO oil from controlled organic cultivation
Recycling: The apothecary bottles in which the oils are filled are manufactured fairly in Europe and can be 100% recycled. Simply wash in the dishwasher at over 60°C and reuse.

Made in Germany: Filling and packaging take place exclusively in a factory in Berlin and from our own hands.

Resource-saving: During production, no electrically operated machines are used in the entire filling and packaging process and almost exclusively organic and/or recycled office and packaging materials (packaging tape, printer paper, cleaning agents, etc.) are used.
Gentle production: The organic essential oils are 100% natural organic products from the direct cold pressing of the fruit peel or obtained with the help of gentle steam distillation.

Vegan: The oil is made exclusively from pure raw materials and is free of animal protein and of course not tested on animals.

For seasoning and flavoring food and drinks.
For tea, pour 1-2 drops in 1 teaspoon of honey with 250ml of hot water.


100% organic eucalyptus essential oil
Eucalyptus radiata
Steam Distillation (Leaf, Branch)
from controlled organic cultivation, South Africa
When stored correctly (cool below 25°C, protected from sunlight, dry) essential oils have a shelf life of approx. 2 years. Once opened, we recommend using it within 3 months, as the quality of the fragrance may drop somewhat after this, but the oil itself does not go bad.
WingGuard.de - Sustainable products for you and me
With WingGuard, you no longer have to guess or hope which products are good for you and your home. All products in our shop are subject to strict standards to be non-toxic, effective, sustainable and cruelty-free. As soon as you have found a product that you like, we will deliver it to your home in a CO2-neutral manner.
Sustainability belongs in the middle of society. We offer our customers the best shopping experience & naturally motivate them to lead a more sustainable lifestyle.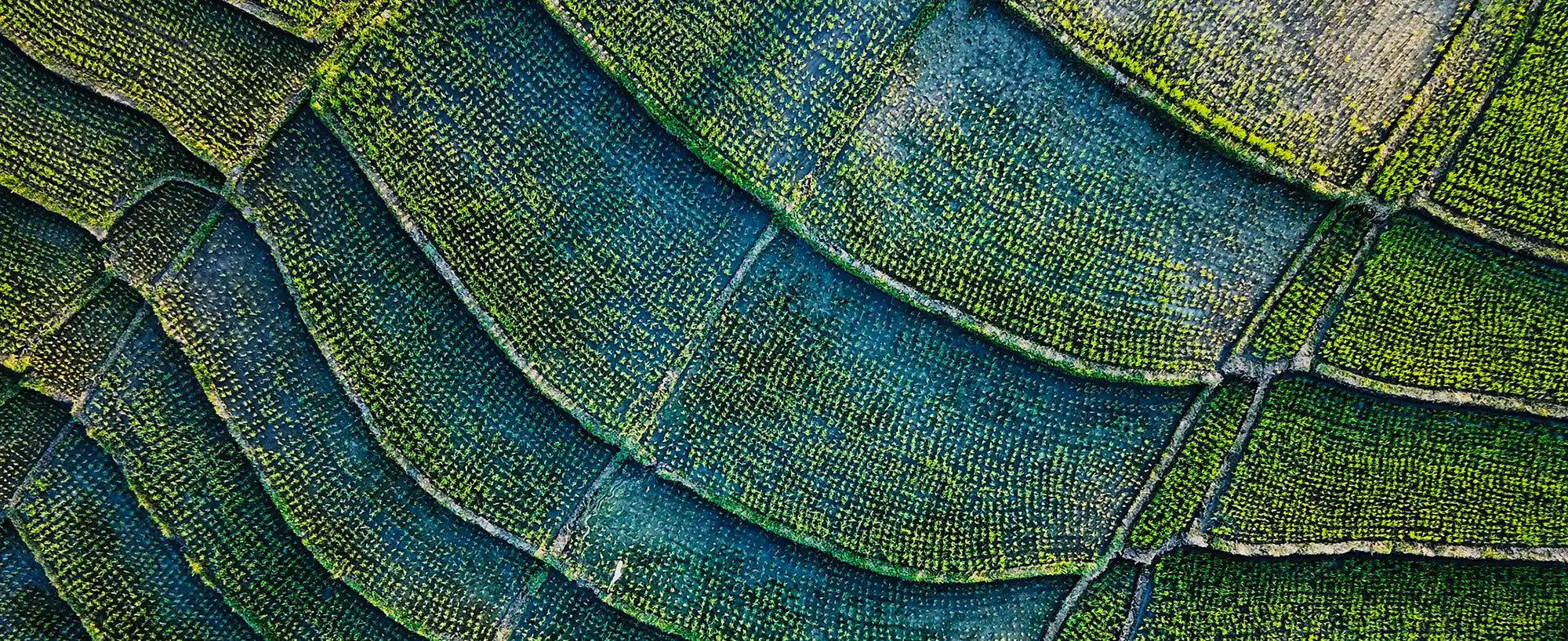 sustainability
As good for you & the planet as it gets
Sustainability is the origin and drive of our actions and thoughts. Therefore all products meet the WingGuard standard. We focus on security, transparency, sustainability and social responsibility. We always look at sustainability holistically. As a company, we are both climate and plastic neutral - across the entire supply chain.