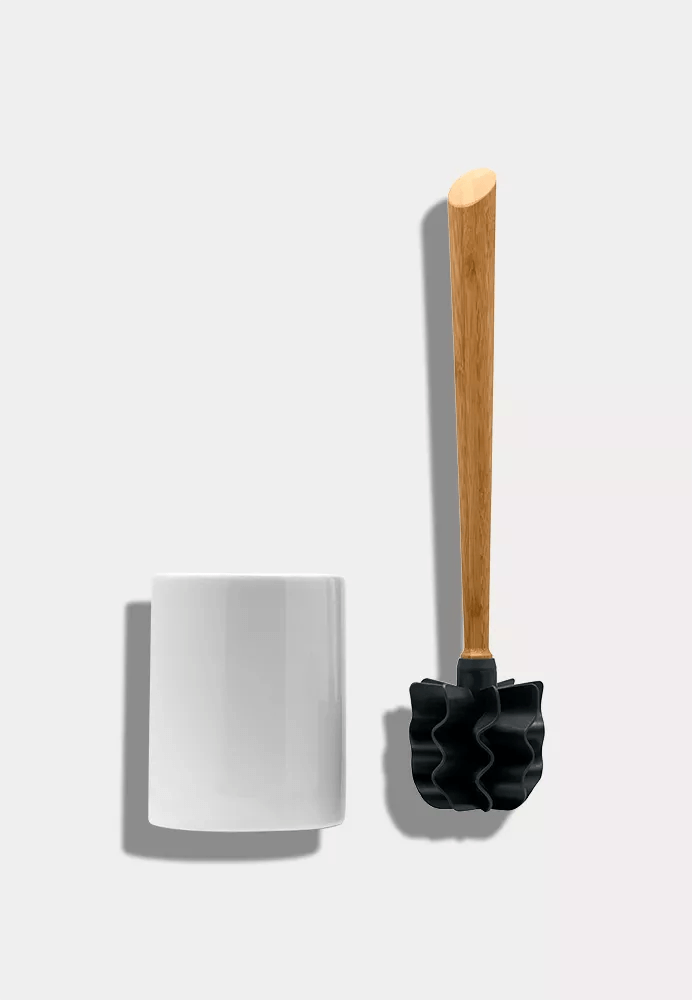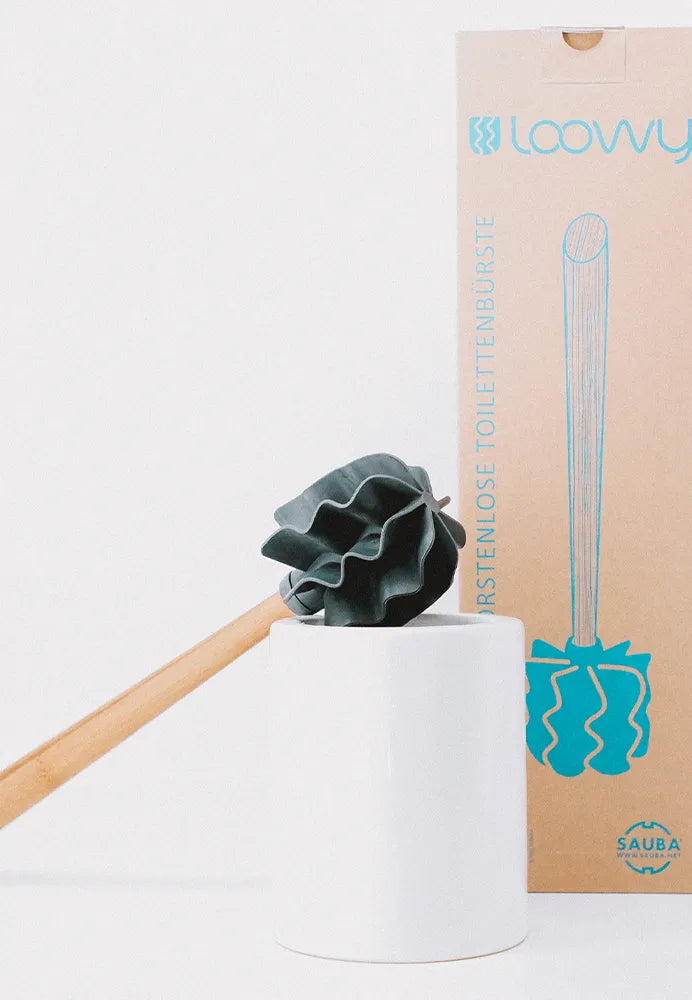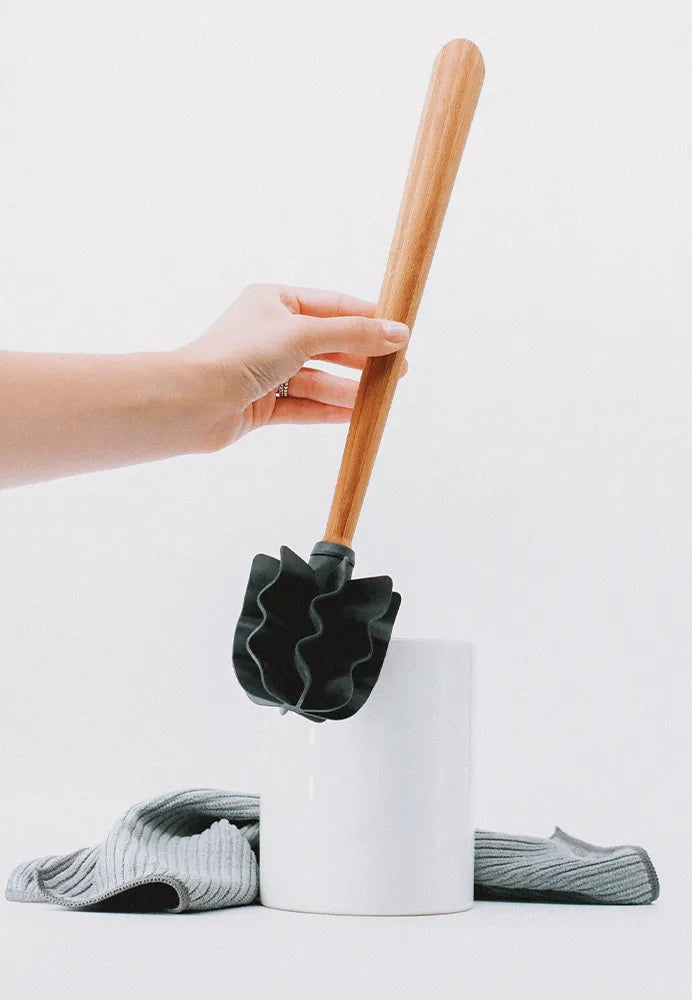 LOOWY bristleless bamboo toilet brush set
❤️ Why we love the product
✓ Drop-free thanks to water-repellent surfaces
✓ Environmentally friendly thanks to the exchangeable head
✓ Made in Germany
LOOWY | the bristle-free toilet brush with bamboo handle and replaceable head from SAUBA:
Hardly anything has changed in toilet hygiene for decades - until SAUBA revolutionized this field with the LOOWY. With LOOWY, a particularly hygienic, water- and germ-repellent, sustainable and beautiful toilet brush with replaceable heads was developed. Thanks to silicone-like and antibacterial fins on the head, LOOWY is a hygienic and at the same time sustainable alternative to conventional toilet brushes. And all of that Made in Germany!
• Outstanding cleaning performance thanks to eight corrugated fins
• Killing germs with antibacterial material (TÜV tested: kills 99.9% of bacteria)
• Drop-free thanks to water-repellent surfaces, long-lasting (up to 5x longer) thanks to robust and easy-to-clean material
• Environmentally friendly thanks to the exchangeable head (soon also available here in the shop)
• With handle made of high-quality and durable bamboo
• Made in Germany
• Easily withstands aggressive toilet cleaners
• Includes white ceramic holder
Why toilet brushes without bristles?
There are many good reasons for this. Because toilet brushes with bristles, as we know them up to now, are neither hygienic nor thorough, let alone good for the environment:
• Toilet paper and other debris stick to the brush
• Water sticks to brush, drips onto glasses and floor, puddle in stand
• Cleaning performance decreases quickly, constant scrubbing necessary
• They quickly become unsightly, unsanitary and regularly renewed
• They are an undue burden on our ecosystem
LOOWY | the bristleless toilet brush addresses these weak points without giving up the familiar shape and handling:
• Durable and robust
• Innovative slats for easy wiping
• Interchangeable head
• No annoying dripping
• Water repellent and easy to clean
• Antibacterial effect
WingGuard.de - Sustainable products for you and me
With WingGuard, you no longer have to guess or hope which products are good for you and your home. All products in our shop are subject to strict standards to be non-toxic, effective, sustainable and cruelty-free. As soon as you have found a product that you like, we will deliver it to your home in a CO2-neutral manner.
Sustainability belongs in the middle of society. We offer our customers the best shopping experience & naturally motivate them to lead a more sustainable lifestyle.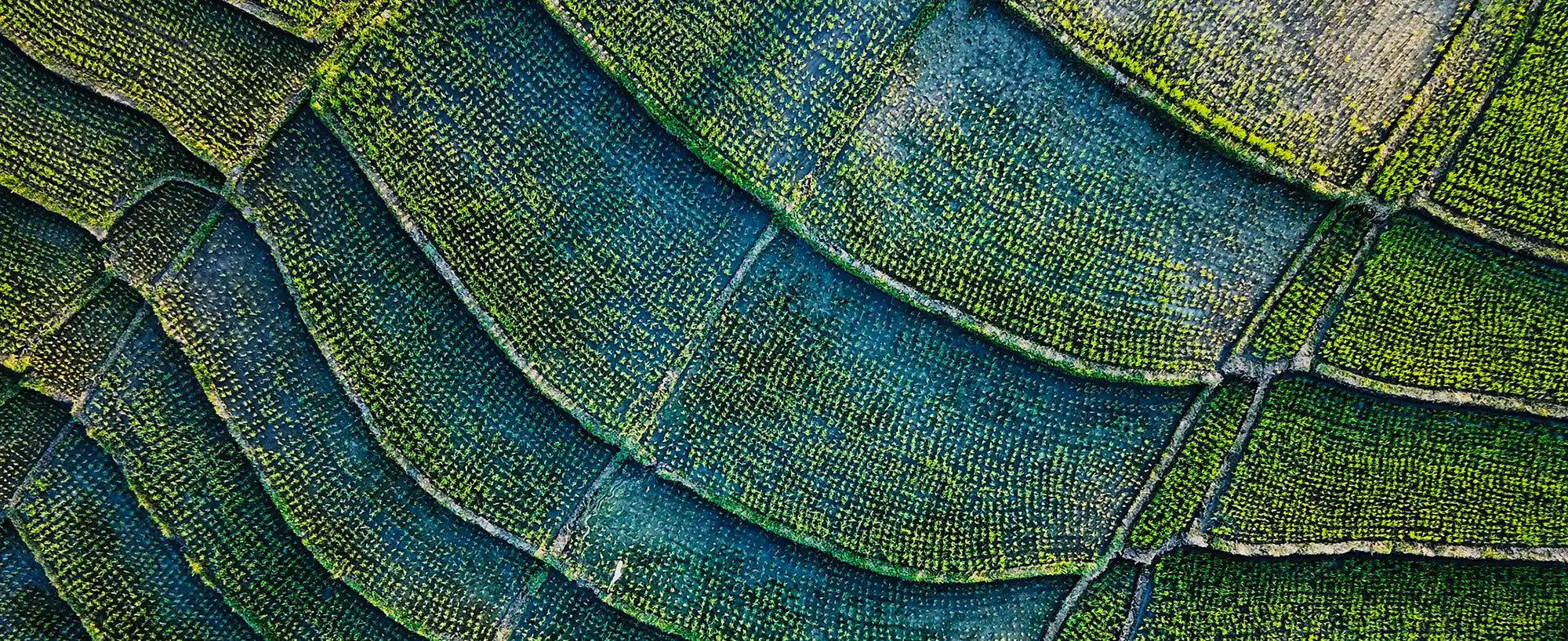 sustainability
As good for you & the planet as it gets
Sustainability is the origin and drive of our actions and thoughts. Therefore all products meet the WingGuard standard. We focus on security, transparency, sustainability and social responsibility. We always look at sustainability holistically. As a company, we are both climate and plastic neutral - across the entire supply chain.