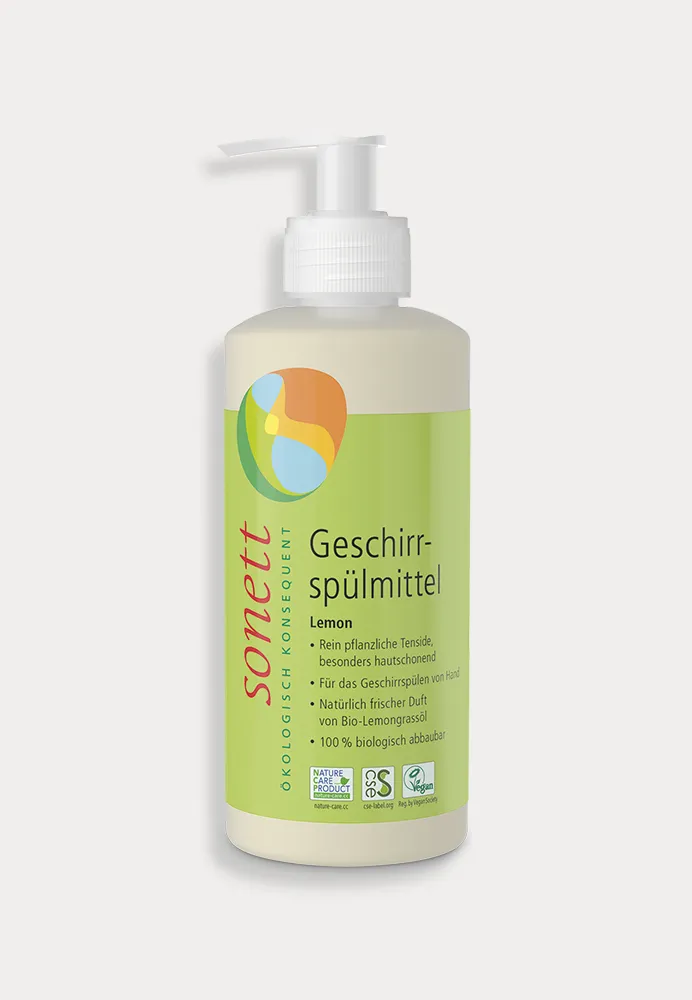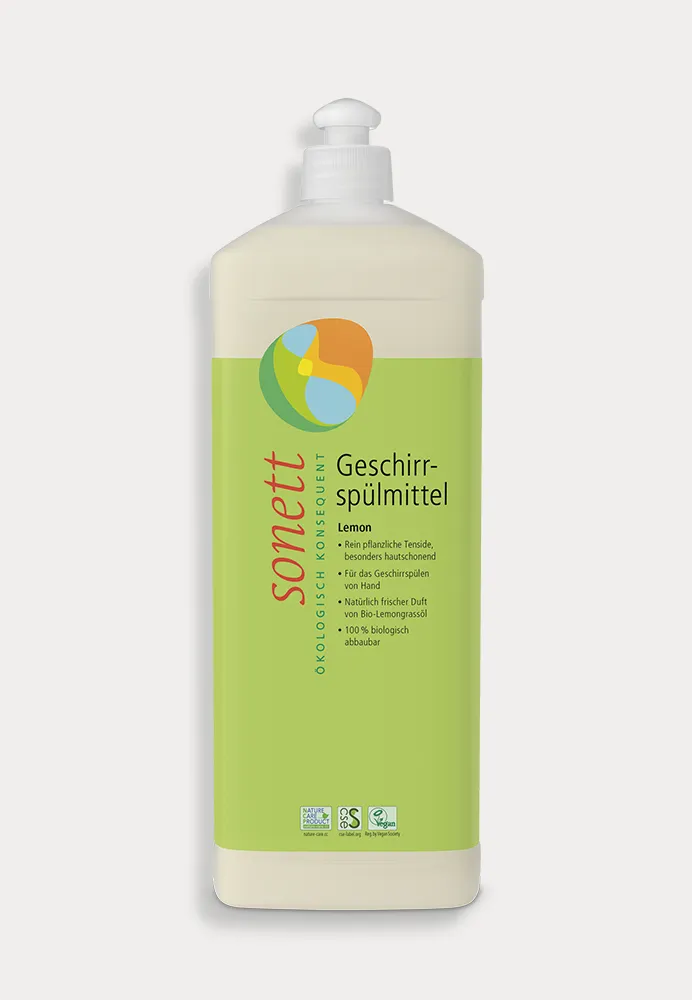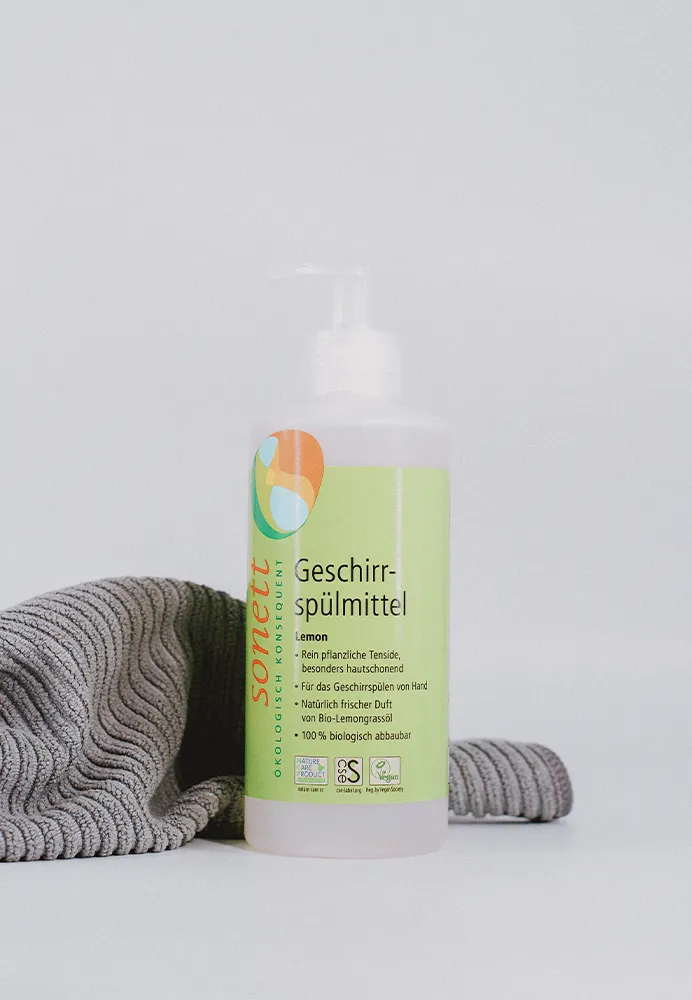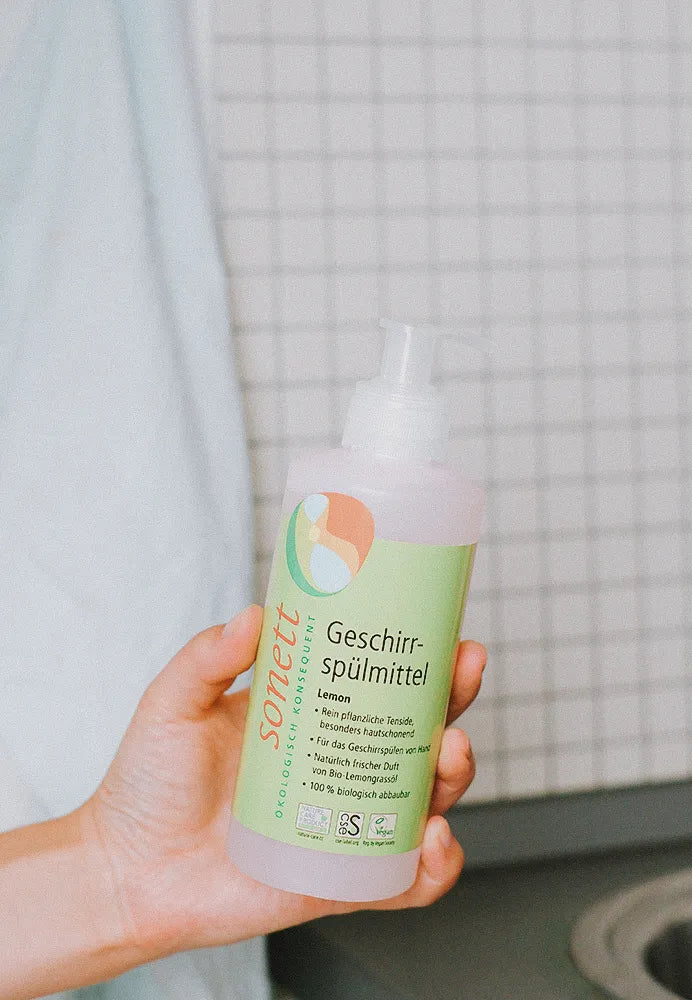 Lemon dishwashing liquid
❤️ Why we love the product
✓ 100% biodegradable
✓ Pure vegetable surfactants
✓ Vegan
You can easily refill the dispenser with the 1 liter refill bottle of Sonett dishwashing liquid Lemon. The Sonett Lemon dishwashing liquid has a fresh lemon scent. The concentrate is very economical. The Sonett dishwashing liquid is also available in the following size: 300 ml. The surfactants used, coconut oil alcohol sulphate and sugar surfactant, are 100% biodegradable and therefore very kind to the skin.
Washing up is easy with the Sonett dishwashing liquid Lemon, because it is particularly kind to the skin. A clean rinsing result and 100% biodegradable. The detergent is very economical.

Dose about 2 squirts (about 3 ml / 5 liters of water) of Sonett dishwashing liquid Lemon directly into the dishwater or onto the dishwashing sponge.

At temperatures below 10 °C, the product changes and becomes somewhat firmer and whitish, which disappears again in the heat, if necessary by gently shaking it. Store between 10 and 25 °C if possible. Short-term temperature drops below or above are possible without damage to the product. Keep out of the reach of children.
Aqua, Alkylpolyglucoside C10–C16 (Lauryl Glucoside), Sodium C8–C14 Fatty Alcohol Sulfate (Sodium Octyl Sulfate, Sodium Lauryl Sulfate), Alcohol, Sodium Chloride, Sodium Citrate, Parfum*, Citral*

*certified organically grown

Sugar surfactant 5-15%, coconut oil alcohol sulphate 1-5%, vegetable alcohol (ethanol) 1-5%, table salt <1%, citrate <1%, natural essential lemongrass oil, from certified organic cultivation <1%, balsamic additives, from certified organic Cultivation / wild collection <1%, water, swirled to 100%
WingGuard.de - Sustainable products for you and me
With WingGuard, you no longer have to guess or hope which products are good for you and your home. All products in our shop are subject to strict standards to be non-toxic, effective, sustainable and cruelty-free. As soon as you have found a product that you like, we will deliver it to your home in a CO2-neutral manner.
Sustainability belongs in the middle of society. We offer our customers the best shopping experience & naturally motivate them to lead a more sustainable lifestyle.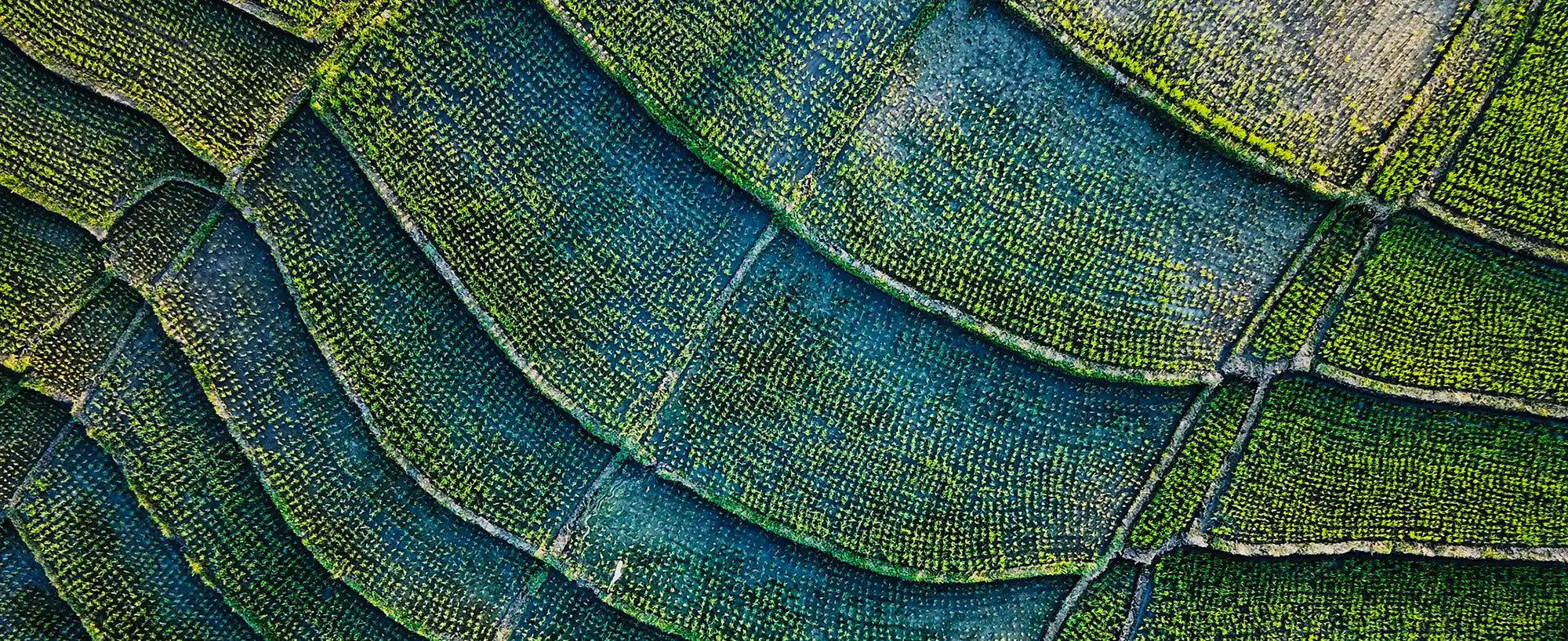 sustainability
As good for you & the planet as it gets
Sustainability is the origin and drive of our actions and thoughts. Therefore all products meet the WingGuard standard. We focus on security, transparency, sustainability and social responsibility. We always look at sustainability holistically. As a company, we are both climate and plastic neutral - across the entire supply chain.