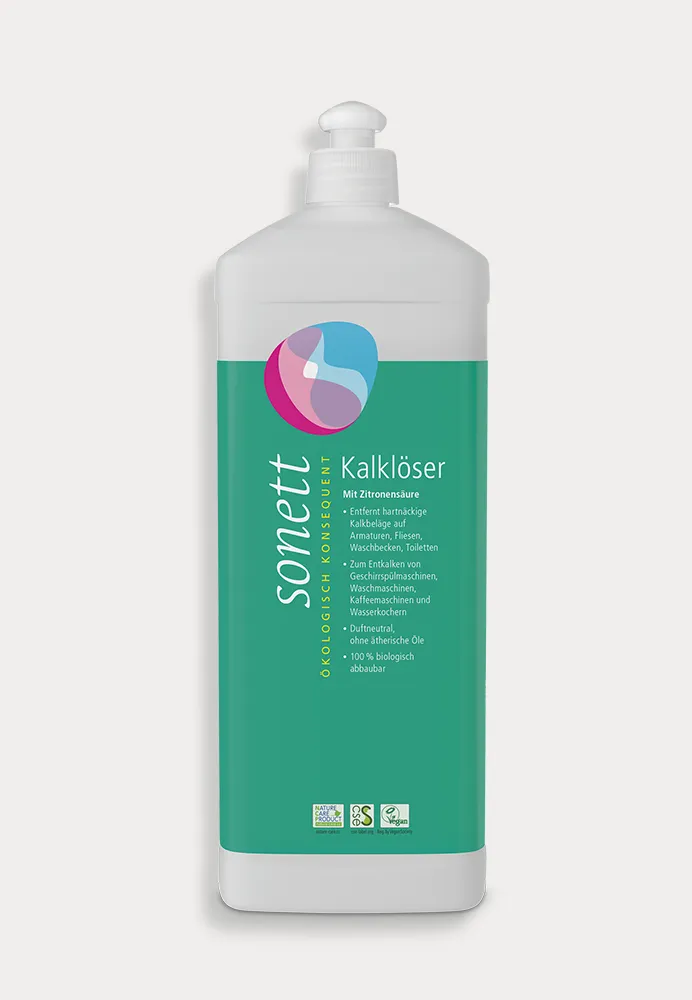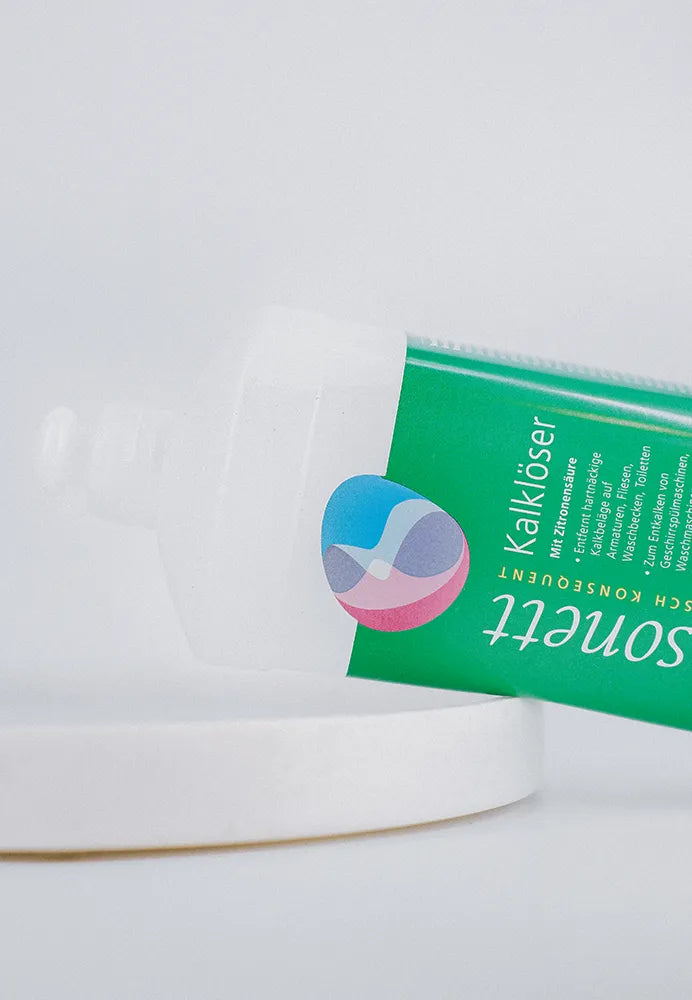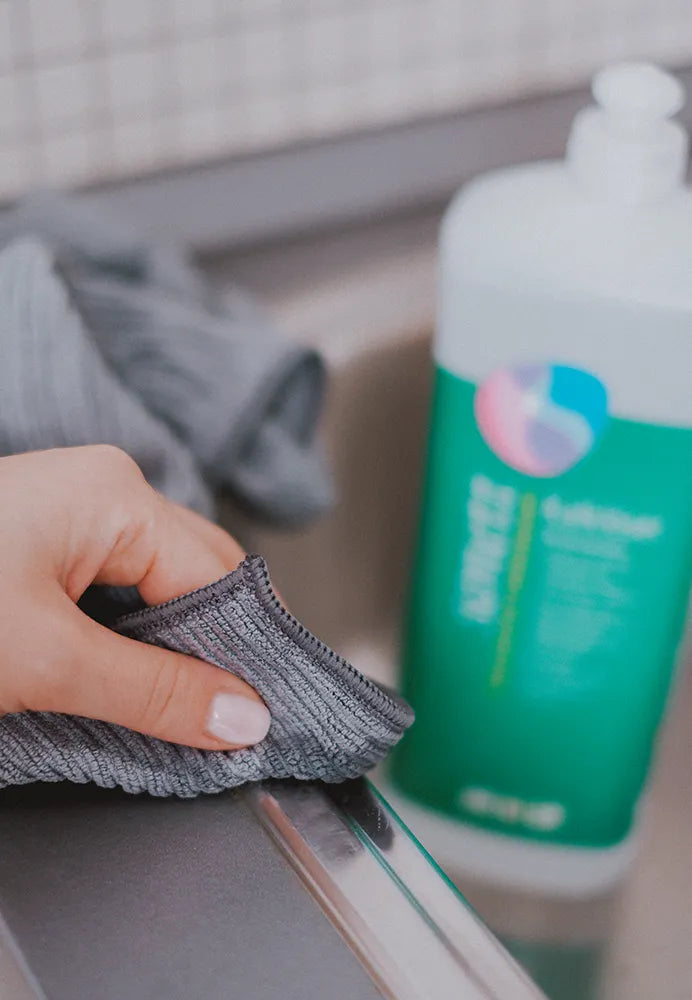 Limescale remover (1 L)
❤️ Why we love the product
✓ 100% biodegradable
✓ Unscented
✓ Vegan
The unscented Sonett Limescale Remover uses citric acid because of its gentle effect on metals and plastics and its quality as a food ingredient. The Sonett Lime Remover is ideal for removing stubborn limescale in kitchen and sanitary areas.
Content: 1 liter.
Wherever heavy calcification occurs, Sonett Limescale Remover can be used effectively. For example on fittings, tiles, toilets, cooking pots, electric cookers, coffee machines, washing machines and much more.

Danger
Citric acid has a decalcifying effect. Please keep away from calcareous surfaces such as marble, concrete, engineered stone, limestone, etc.

Sonett Kalköser undiluted
You can use Sonett Limescale Remover undiluted on fittings, toilets or tiles. Undiluted use where the Sonett Limescale Remover cannot be heated. Depending on the layer of lime, simply leave it on for a few minutes and then rinse off thoroughly with clear water.

Diluted Sonett Limescale Remover
Dilute the Sonett Limescale Remover if the Sonett Limescale Remover is heated, e.g. B. for descaling machines such as kettles, coffee machines or in saucepans.

Dosage for descaling the kettle
Add approx. 100 ml Sonett Limescale Remover per 0.5 liter of water and heat the whole thing to approx. 60 °C. Leave for approx. 20 to 30 minutes and rinse well.

Dosage for descaling the coffee machine
Add 200 ml of Sonett Limescale Remover and 800 ml of water to the coffee machine's water reservoir. Observe the instructions for use of the respective machine that you are descaling. A subsequent passage with clear water is absolutely necessary - until the water is clear.

Dosage for descaling a 4.5 kg washing machine
Add 1 liter of Sonett Limescale Remover to the 60 °C main wash cycle (without laundry). Run the wash cycle and clean the lint filter as well. Dosage for descaling the dishwasher Add 1 liter of Sonett Limescale Remover to the main wash cycle of the longest rinse cycle (after the pre-rinse!) - with or without dishes. Let the program run to the end.
Aqua, Citric Acid, Alcohol
WingGuard.de - Sustainable products for you and me
With WingGuard, you no longer have to guess or hope which products are good for you and your home. All products in our shop are subject to strict standards to be non-toxic, effective, sustainable and cruelty-free. As soon as you have found a product that you like, we will deliver it to your home in a CO2-neutral manner.
Sustainability belongs in the middle of society. We offer our customers the best shopping experience & naturally motivate them to lead a more sustainable lifestyle.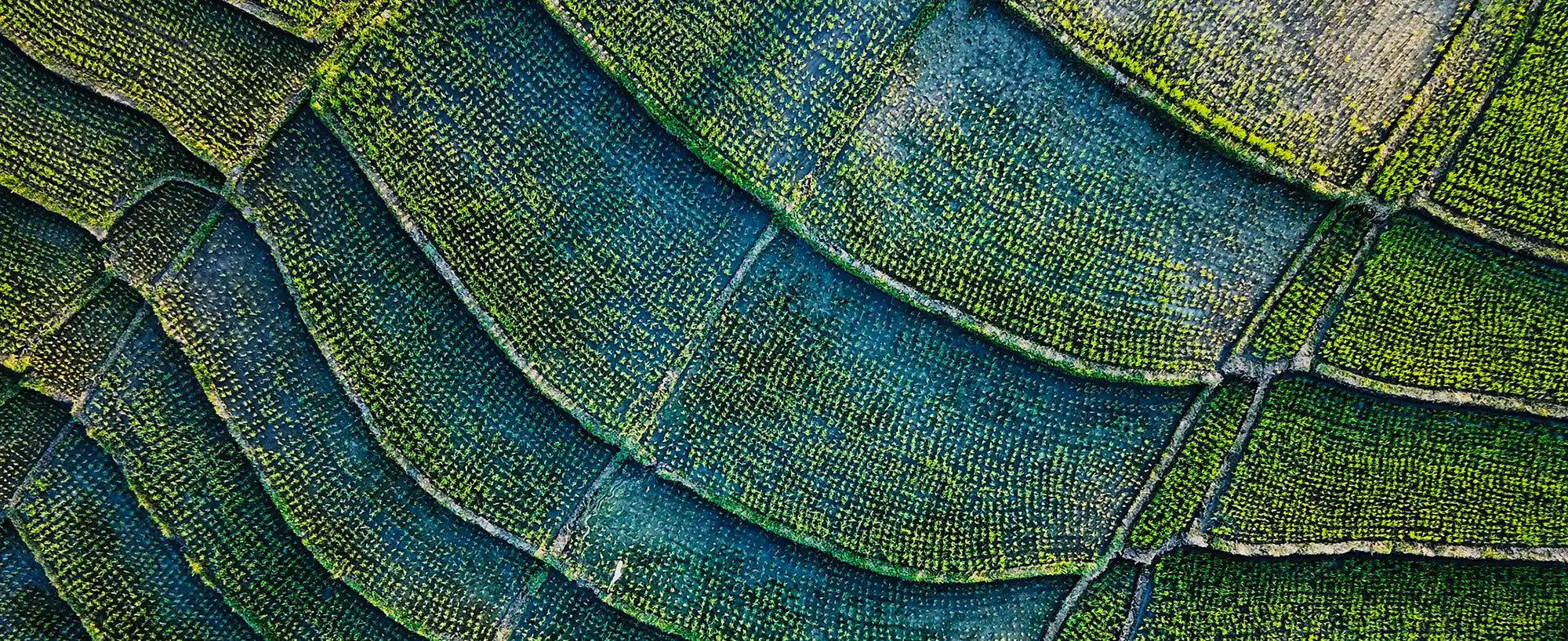 sustainability
As good for you & the planet as it gets
Sustainability is the origin and drive of our actions and thoughts. Therefore all products meet the WingGuard standard. We focus on security, transparency, sustainability and social responsibility. We always look at sustainability holistically. As a company, we are both climate and plastic neutral - across the entire supply chain.