NEW
NEW
Small tab Big impact.
Small tab. Big impact.
Discover your new cleaning tab
A tab that keeps what it promises.
Sustainability has never been so beautiful: With our effective and sustainable cleaning tab, your home will now shine in an environmentally friendly shine.
Put the tab in the water and let's go!
Best cleaning performance
Plant-based raw materials
Vegan & microplastic free
best price performance ratio
Recyclable paper packaging
Natural and plant-based raw materials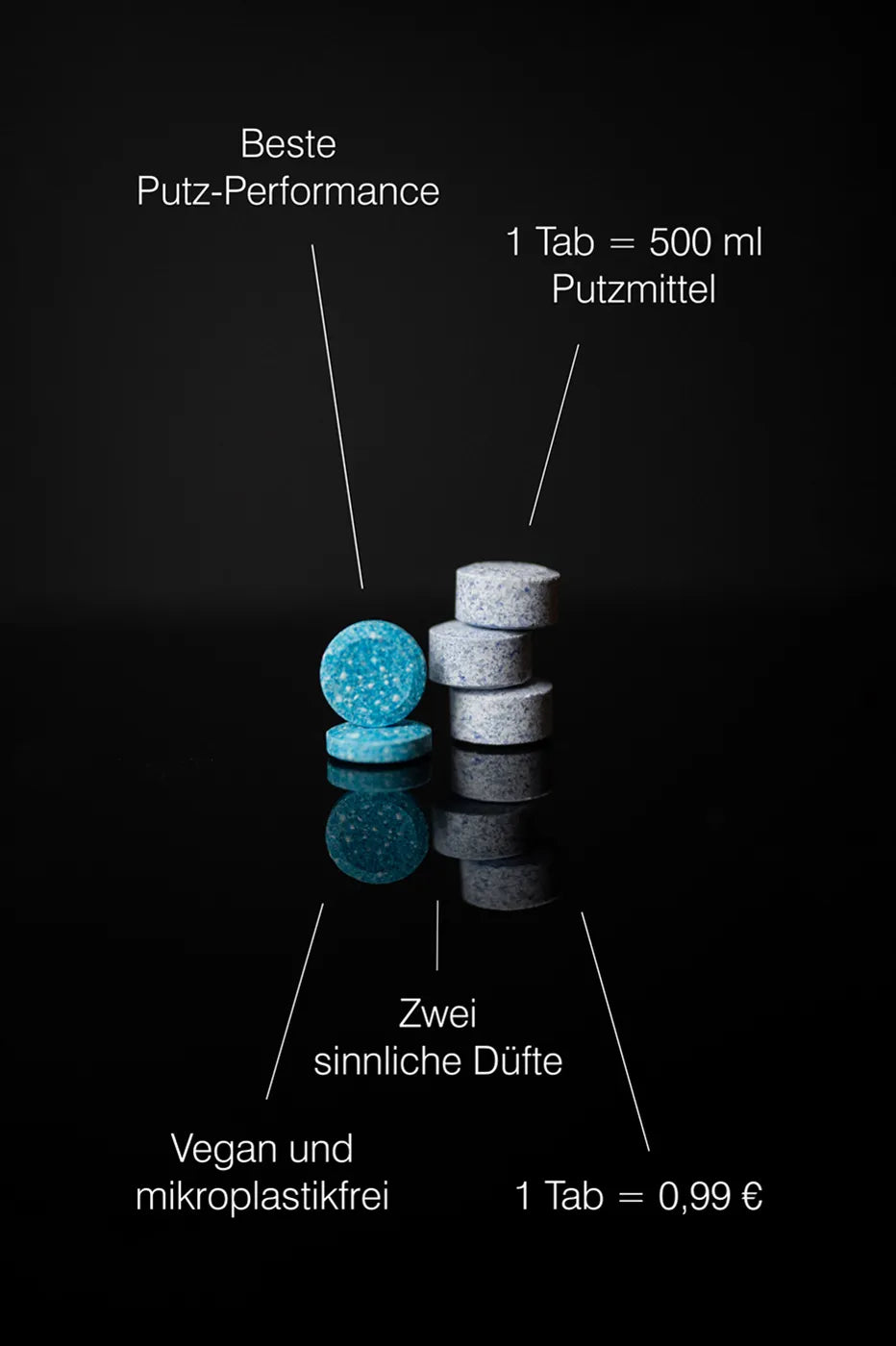 The tabs
The WingGuard cleaning tabs will initially be available as all-purpose and glass cleaners. They consist of purely natural and mineral ingredients and come in recyclable paper packaging. The production of the tabs, which are provided with the sensual scents of aloe vera or flowers, takes place in France.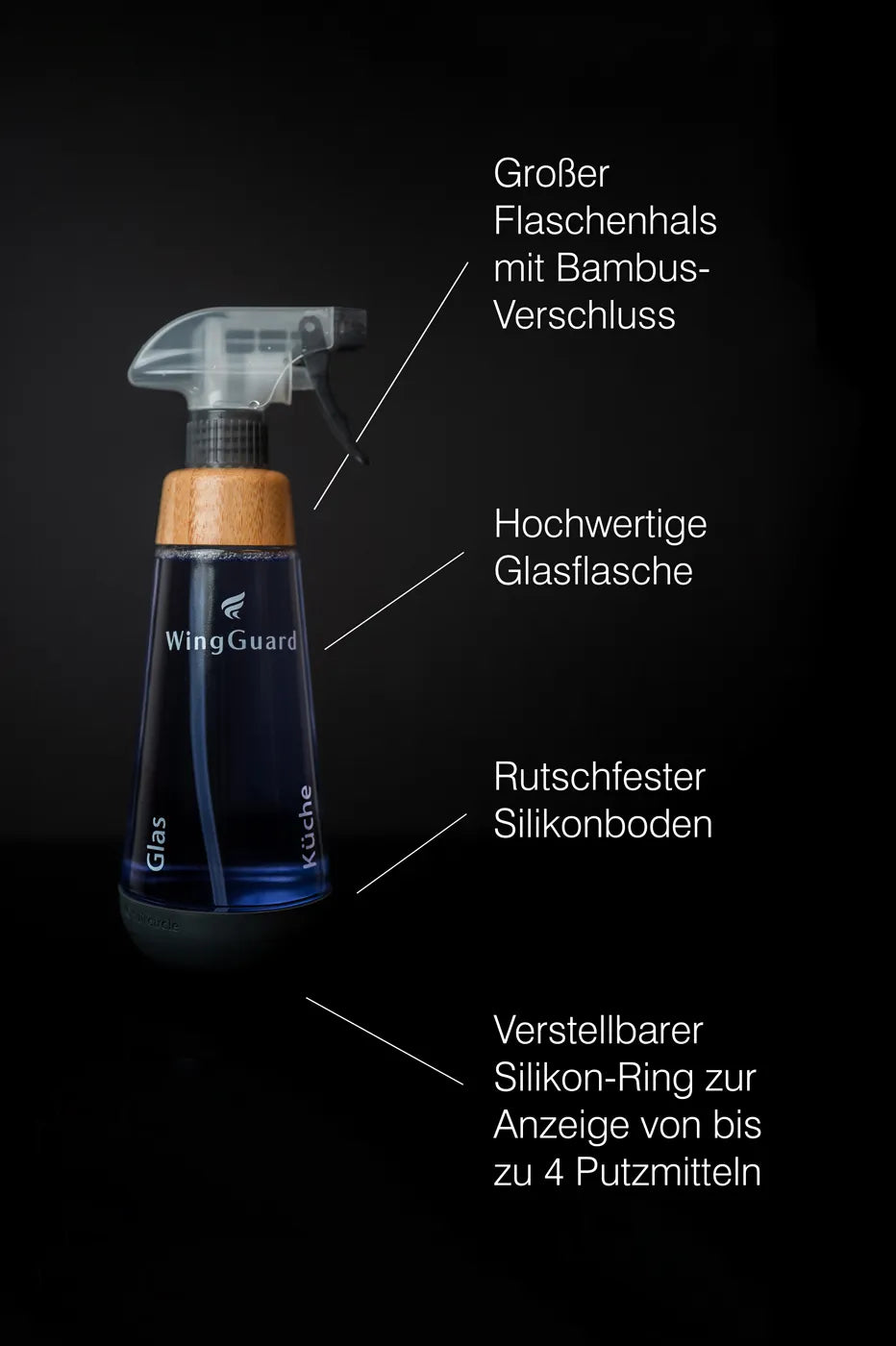 The glass bottle
The tabs are dissolved in a specially developed, high-quality and multifunctional glass bottle. Thanks to the reusable bottle, which is finished with a stylish bamboo cap, plastic is saved that is used in conventional bottles. There is also a removable silicone ring at the bottom of the bottle, which can be adjusted as desired to mark which detergent is currently in the bottle. The neck of the bottle is so large that the tabs can be easily filled.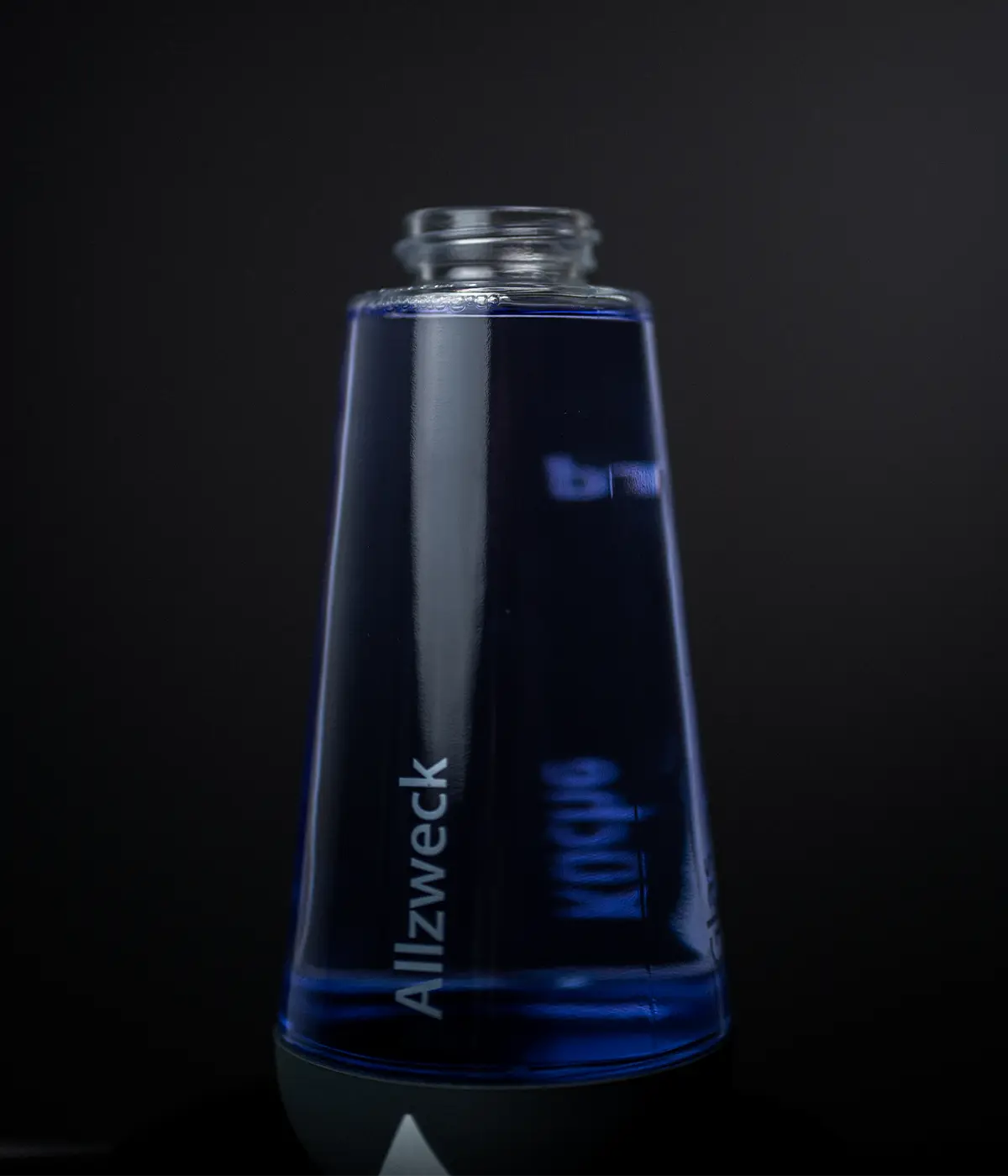 Step 1
Use the arrow on the non-slip silicone base to choose which sustainable cleaning agent will be in the glass bottle. Now fill your high-quality cleaning bottle with 500 ml of water.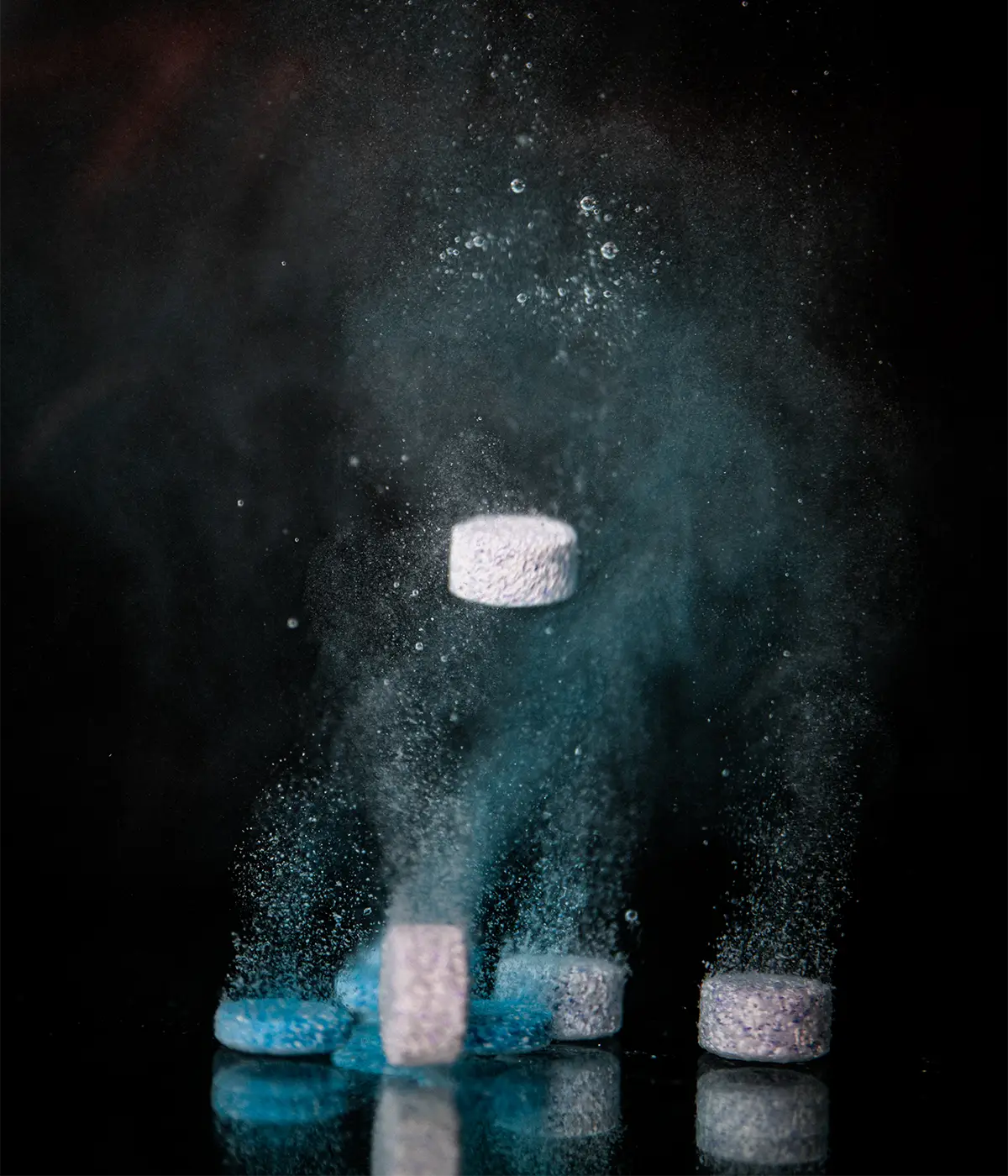 step 2
Put a cleaning agent tab in the water and wait until it has completely dissolved after about 2 minutes. You can then close your spray bottle with the sustainable bamboo attachment.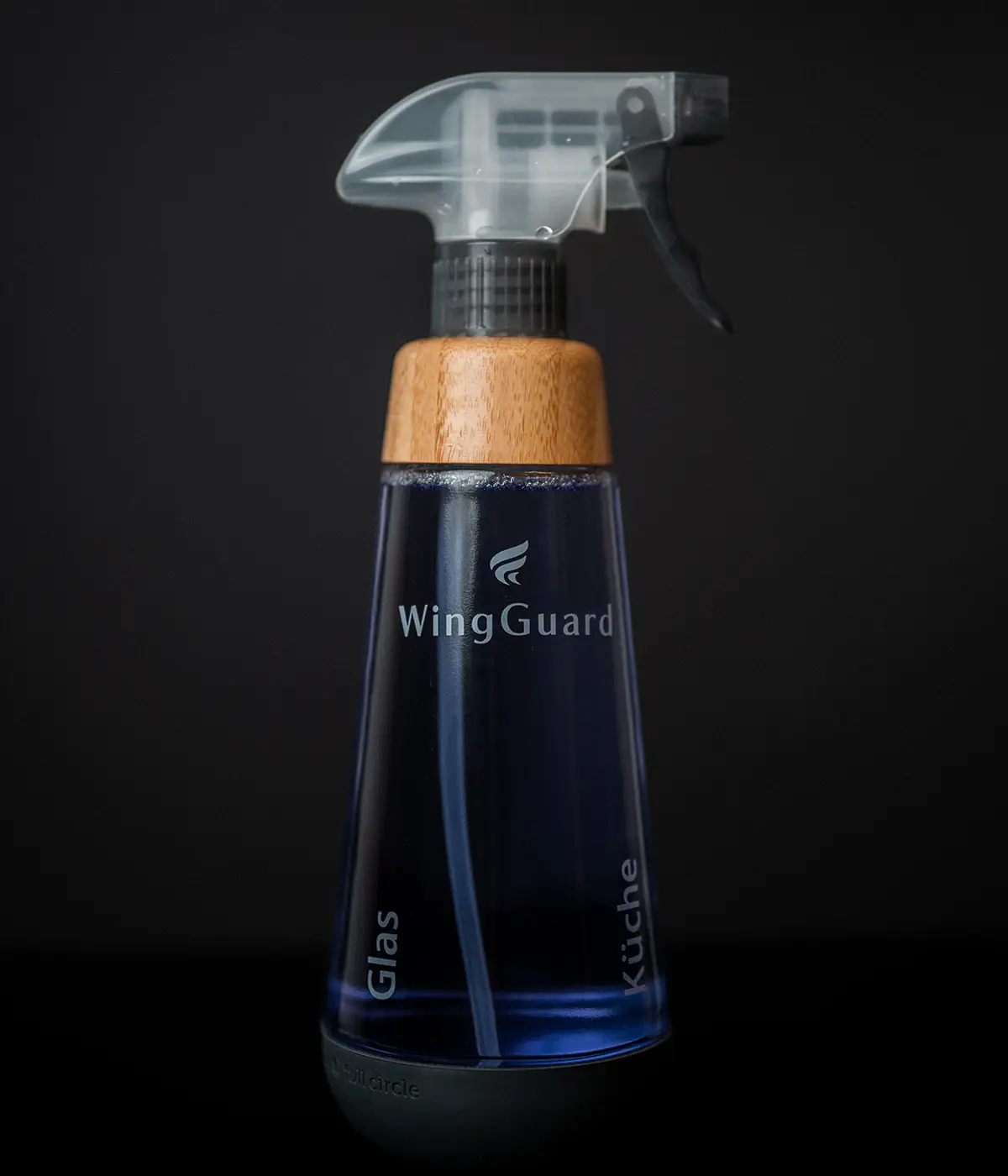 step 3
Open the spray head by turning the nozzle to "ON" and pump a few times until the spray attachment is filled with detergent - you're good to go! For an optimal cleaning experience, you can choose between two spray settings.
naturally. nice. cleaning.
WingGuard Home creates sustainable and effective household products for your feel-good home. All WingGuard Home products meet our four-point standard: uncompromisingly sustainable, beautifully effective, ethically produced and cruelty-free.
Our values
We are Louis and Burak. We have made it our mission together to bring sustainability to your home. But what does that actually mean?
With us you will find resource-saving, plastic-free and recycled products from the areas of care & beauty, cleaning & household and hygiene. Our goal is to always find or develop the best product.
For you and our earth.
Sustainable cleaning tabs - for a clean, environmentally friendly home
The innovation for your environmentally friendly household: Cleaning tabs.
Cleaning tabs are compact tablets made from natural ingredients. Cleaning tabs are made from biodegradable substances that are not harmful to the environment. The cleaning tabs are easy to use and require just a few simple steps. First you have to dissolve the cleaning agent tabs in the glass spray bottle in water before they can be used for cleaning. Cleaning tabs are a simple and convenient way to keep your home clean without creating waste.
Tabs packed plastic-free in a paper bag & ready to dissolve
The cleaning tabs from WingGuard Home help you to minimize your plastic consumption. The high-quality glass cleaning bottle can be refilled as often as you like. Whether organic all-purpose cleaner in the form of a cleaning agent tab or natural and biodegradable glass cleaner, you will be amazed by the cleaning performance. Thanks to the all-purpose cleaner, your surfaces will be sparkling clean & the glass cleaner will make your mirror and glass surfaces shine without any streaks. This makes cleaning your feel-good home a lot of fun. Our cleaning bottle was specially developed for refilling and therefore has a wide bottleneck.
Small tab - great cleaning performance
Detergent tabs are also very effective for cleaning. The small cleaning agent tabs are sometimes stronger than conventional cleaning agents and can also dissolve dirt that is difficult to remove. Also, cleaning tabs are very efficient as they only require a small amount of water to clean effectively. All in all, cleaning agent tabs are a good choice for anyone who wants to focus on sustainability when choosing cleaning agents.
Protect your delicate skin with natural cleaning products
When thinking about cleaning products, most people who strive for a sustainable lifestyle think of harmful chemicals that can harm not only the environment but also the skin. Luckily that has changed in recent years & the sustainable cleaning tabs help to keep your home clean without harming your skin. The ingredients of the WingGuard Home cleaning agent tabs consist of at least 94% natural raw materials, are vegan and contain no microplastics.