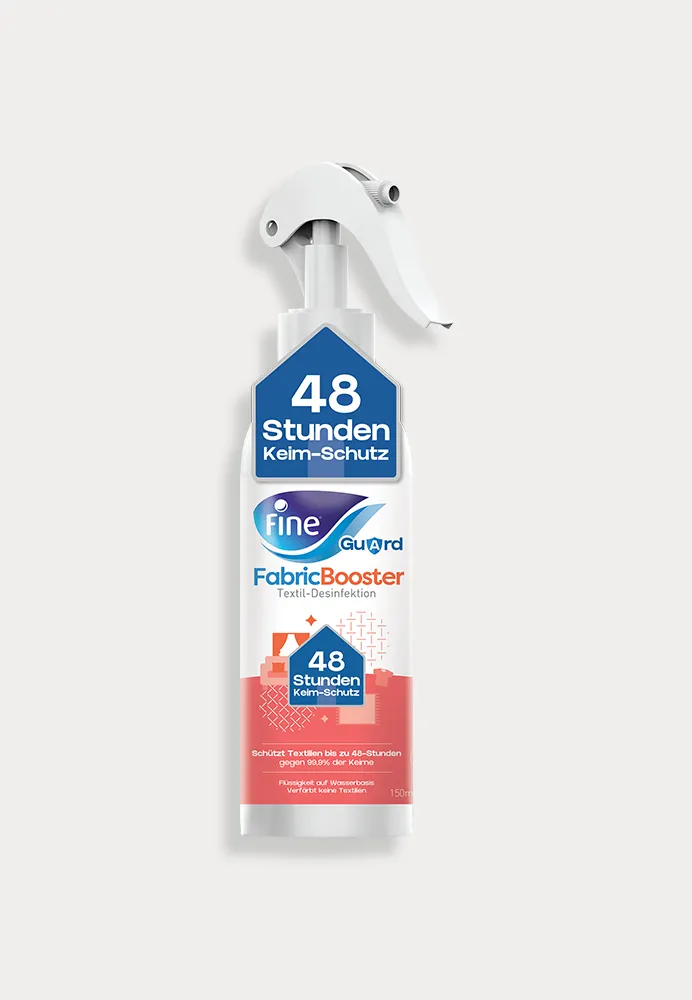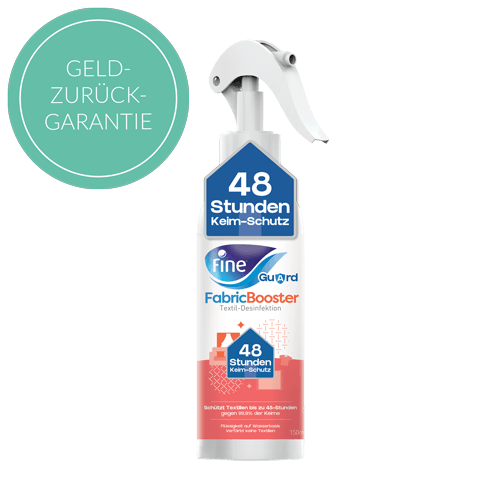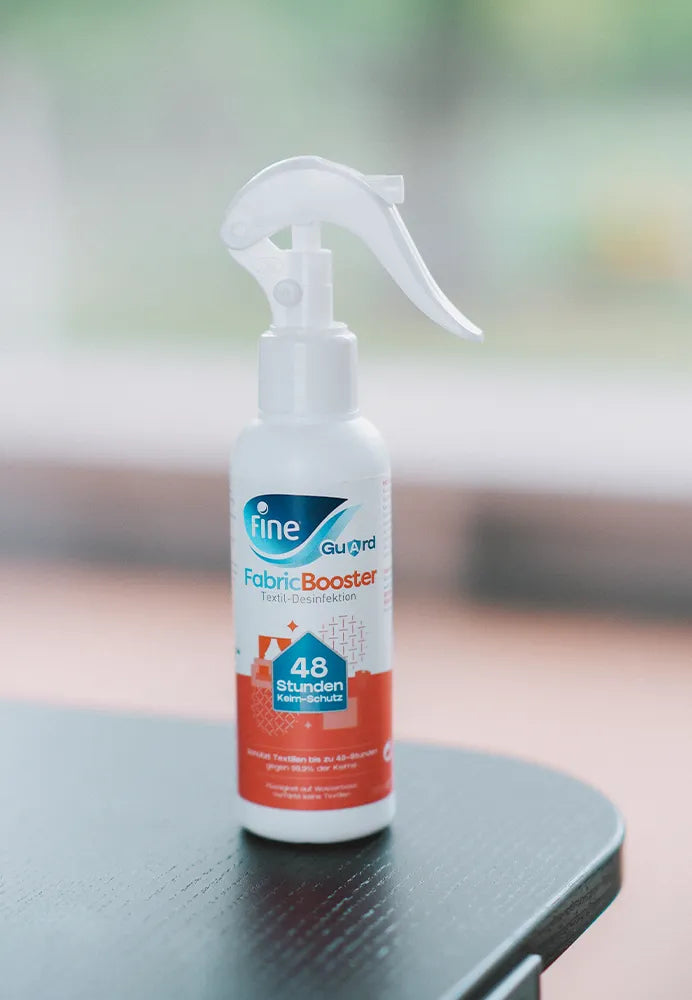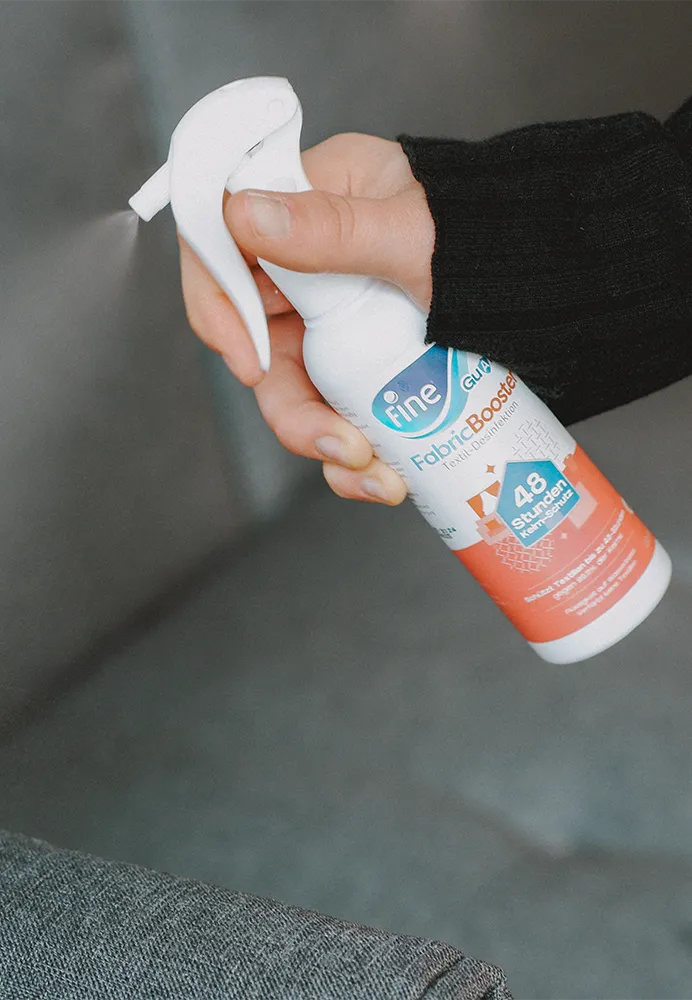 FabricBooster - 48 hour textile disinfection, 150 ml
❤️ Why we love the product
✓ 48-hour action
✓ Water based
✓ Suitable for many different fabrics
✓ With money-back guarantee
Thanks to its SteriPro technology, Fine Guard FabricBooster forms a long-lasting, antimicrobial coating that eliminates 99.9%* of germs on contact and does so on textiles for up to 48 hours.
• 48-hour effectiveness: Fine Guard FabricBooster is a textile disinfectant that continuously neutralizes 99.9%* of germs on textiles for up to 48 hours
• Innovative Technology: Fine Guard FabricBooster is here to revolutionize your cleaning routine! Thanks to its SteriPro technology, it forms a durable and antimicrobial coating that binds to the respective textile and protects it from germs.
• Ideal for carpets, sofas, curtains, bed linen, stuffed animals, etc.
• Efficacy confirmed by independent laboratories*
• Water-based
• 150ml bottle
• Use biocidal product carefully. Always read the label and product information before use
•
Shipping only possible to Germany and Austria!
* The effect of Fine Guard FabricBooster has been tested according to AATCC 100 on cotton, lycra and polycotton. It was confirmed that 99.9% of the germs were eliminated even after 48 hours.
Always read the label and product information before use. Fine Guard FabricBooster is ready to use and should not be further diluted. Spray the FabricBooster evenly onto the textile or fabric of your choice. Allow to dry (this may take up to 10 minutes). After drying, the sprayed textile remains protected against harmful bacteria and viruses for up to 48 hours.

Safety note:
For use on textiles and fabrics only. If accidentally swallowed, rinse mouth with water. In case of eye contact: Rinse cautiously for several minutes. Get medical attention if symptoms of any kind develop or persist. Harmful to aquatic organisms, with long-term effect. Keep out of the reach of children. Avoid release to the environment. Dispose of contents / container in accordance with local regulations.

BAuA Reg.No. N-98655
Alkyl(C12-C16)dimethylbenzylammonium chloride (CAS 68424-85-1) 0.10% (1g/kg)
WingGuard.de - Sustainable products for you and me
With WingGuard, you no longer have to guess or hope which products are good for you and your home. All products in our shop are subject to strict standards to be non-toxic, effective, sustainable and cruelty-free. As soon as you have found a product that you like, we will deliver it to your home in a CO2-neutral manner.
Sustainability belongs in the middle of society. We offer our customers the best shopping experience & naturally motivate them to lead a more sustainable lifestyle.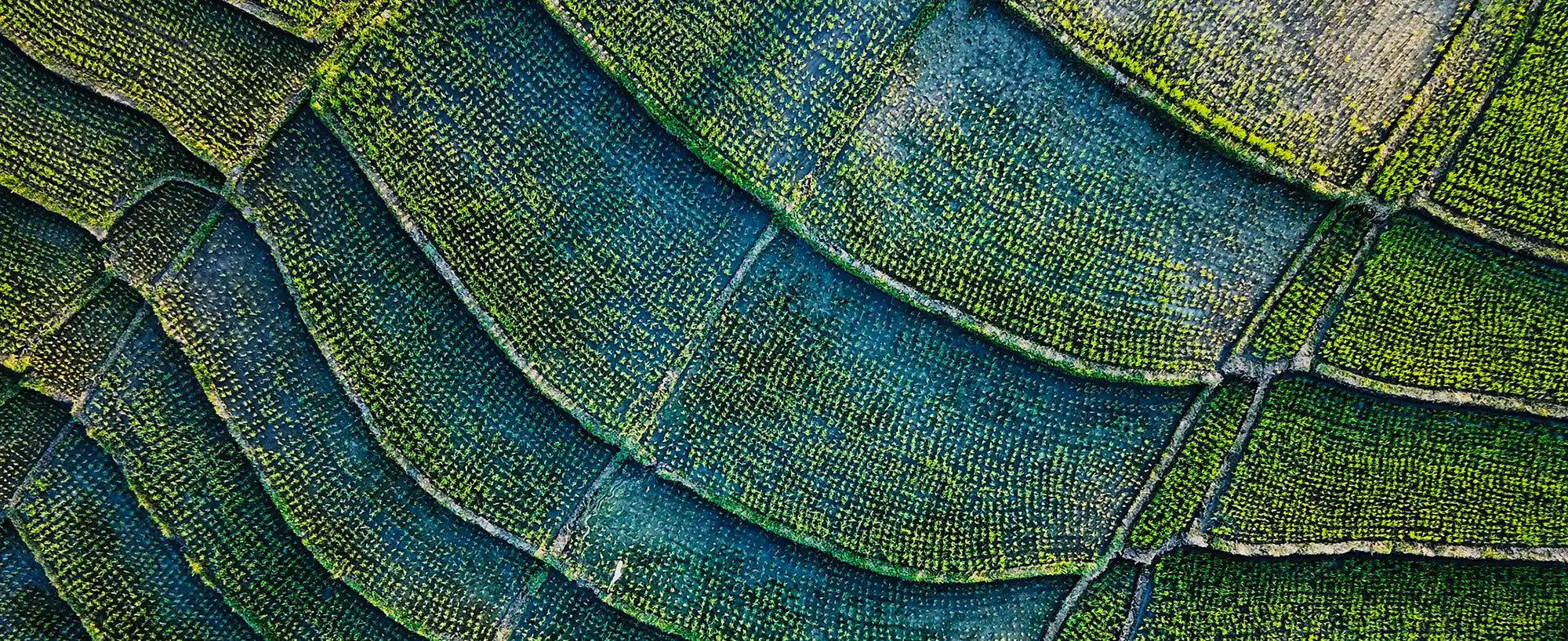 sustainability
As good for you & the planet as it gets
Sustainability is the origin and drive of our actions and thoughts. Therefore all products meet the WingGuard standard. We focus on security, transparency, sustainability and social responsibility. We always look at sustainability holistically. As a company, we are both climate and plastic neutral - across the entire supply chain.