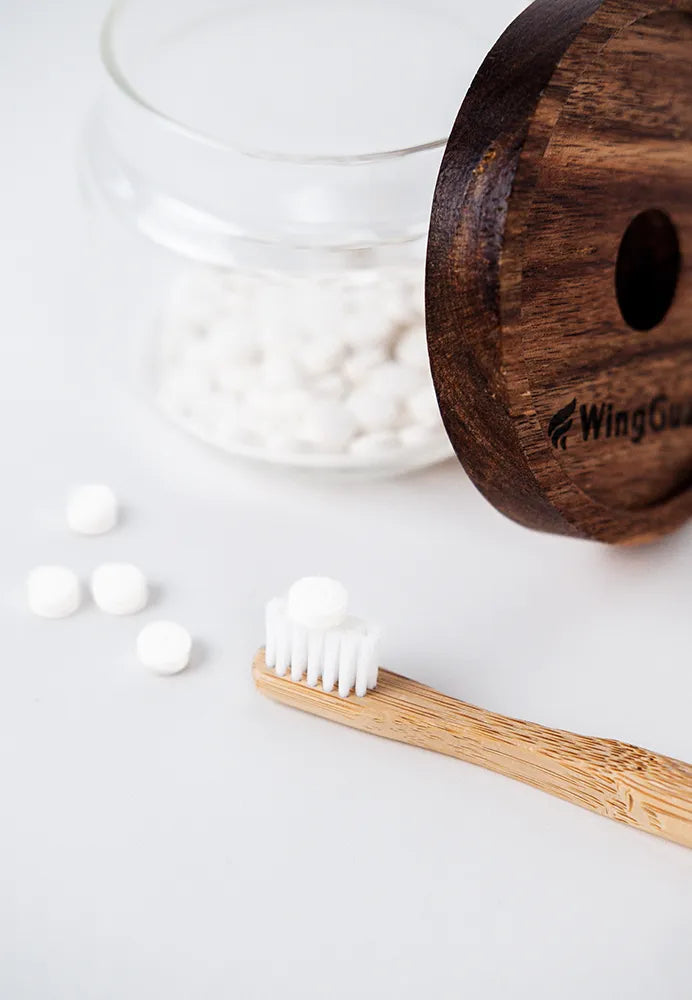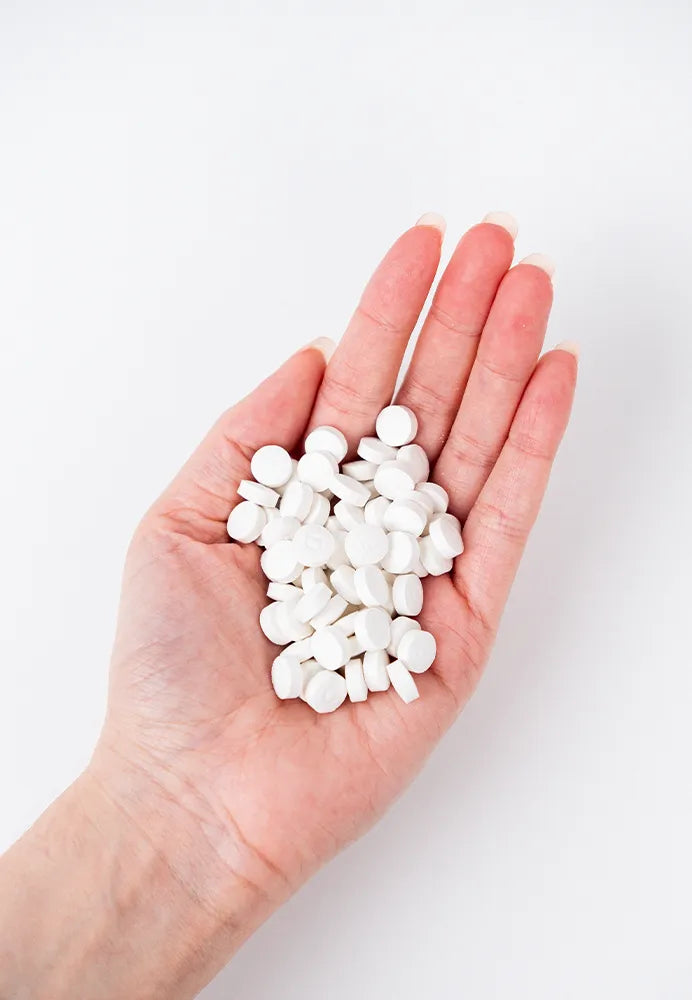 Vegan Toothbrush Tabs
❤️ Why we love the product
✓ Vegan
✓ Replaces 2 tubes of toothpaste
✓ Free from microplastics
Our toothbrush tablets with a natural mint aroma care for and polish your teeth particularly well and sustainably thanks to the high proportion of vegetable cellulose. The anhydrous tablet provides a proven, unique fluoride effect in the mouth, which protects your teeth from caries in the long term. The Paperdent Tabs were developed with dentists, contain no preservatives and are naturally microplastic-free and vegan.
Paperdent toothpaste tablets require around 80% less packaging than toothpaste and are packaged in industrially compostable, bio-based bags. Less plastic and packaging, with more content: one bag contains 125 toothbrush tablets, which corresponds to two tubes of toothpaste and is therefore sufficient for approx. 2 months.
Vegan
Without preservatives and microplastic-free
With plant-based FSC cellulose that polishes your teeth to a high gloss
Thanks to fluoride, your teeth are protected against caries in the long term
Saves packaging and, above all, plastic
One bag equals two tubes of toothpaste
With a natural mint aroma
Brushing your teeth with our Paperdent toothbrush tabs is a bit unusual at first, but it's very simple:

1. First you take 1 tablet in your mouth and chew it up, eg on your molars. This results in a creamy consistency, not a foamy one. We deliberately only use a very gentle and natural surfactant.

2. You wet your toothbrush and brush your teeth as usual.

3. Spit out, rinse mouth with water, done! How do your teeth feel now?

We recommend 1 tablet in the morning and 1 tablet in the evening. In order to gradually approach the foam-free cleaning experience, you are also welcome to take 2 tablets in the morning and 2 tablets in the evening for cleaning. If you feel like freshening your breath during the day, you can of course chew a tablet in between and rinse it out.
Fluoride content: 1450 ppm

Microfine cellulose fibers:
The FSC-certified cellulose fibers polish your teeth smooth and thus fight the formation of deposits and plaque

Citric acid:
Stimulates the flow of saliva, which causes faster remineralization of your enamel and teeth.

Sodium bicarbonate:
Ensures a neutral PH value while brushing your teeth

Diatomaceous Earth (Silica):
Serves as a gentle cleaning body

Amisoft (Sodium Lauroyl Glutamate):
A mild, plant-based tenside that ensures that proteins, fats and carbohydrates combine with the water and are flushed out when rinsing.

Natural Mint Flavor:
Ensures a pleasant feeling of freshness

eugenol:
Is part of the mint flavor

Xanthan Gum:
Natural polysaccharide also used as a thickening and gelling agent. It provides a creamy consistency after chewing the tablet

Stevia (steviosides):
Steviosides are proteins with a characteristic sweet taste that are not sugar and therefore do not cause tooth decay

Menthol:
Like the mint aroma, it ensures a great feeling of freshness in the mouth

Sodium Fluoride:
Ensures remineralization of the tooth enamel and can help with sensitive teeth and the onset of tooth decay. The fluoride content is 1450 ppm

Magnesium stearate:
Plant-based excipient that is necessary in the manufacture of tablets
WingGuard.de - Sustainable products for you and me
With WingGuard, you no longer have to guess or hope which products are good for you and your home. All products in our shop are subject to strict standards to be non-toxic, effective, sustainable and cruelty-free. As soon as you have found a product that you like, we will deliver it to your home in a CO2-neutral manner.
Sustainability belongs in the middle of society. We offer our customers the best shopping experience & naturally motivate them to lead a more sustainable lifestyle.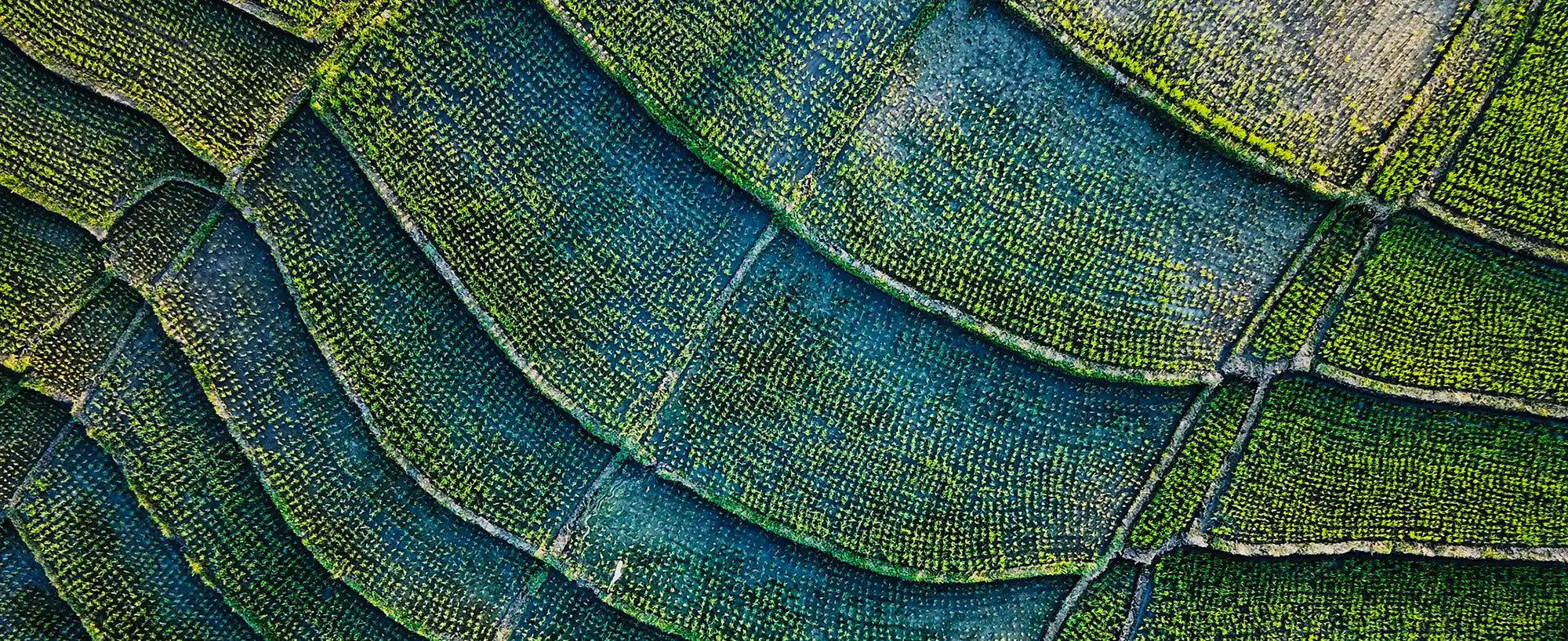 sustainability
As good for you & the planet as it gets
Sustainability is the origin and drive of our actions and thoughts. Therefore all products meet the WingGuard standard. We focus on security, transparency, sustainability and social responsibility. We always look at sustainability holistically. As a company, we are both climate and plastic neutral - across the entire supply chain.