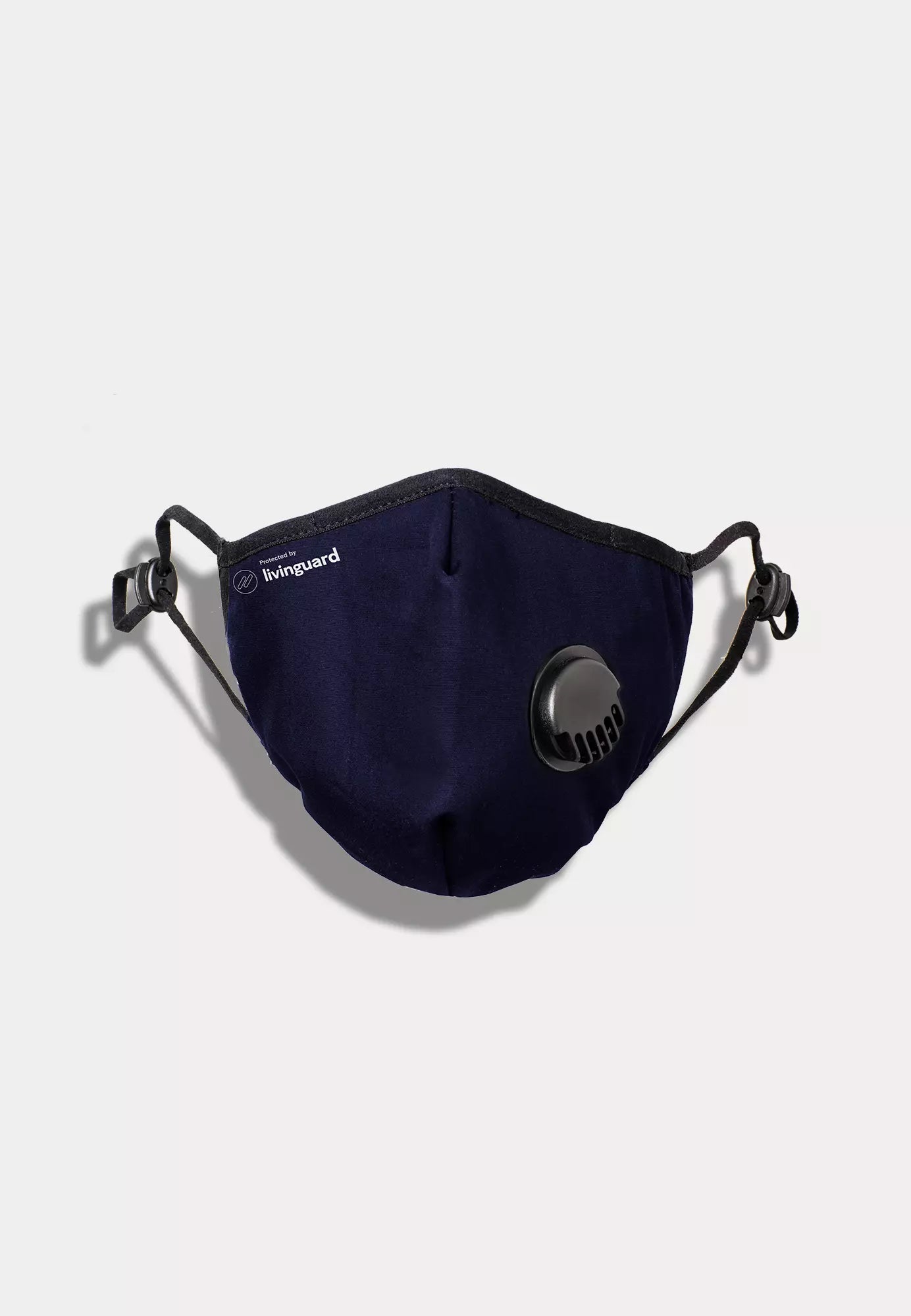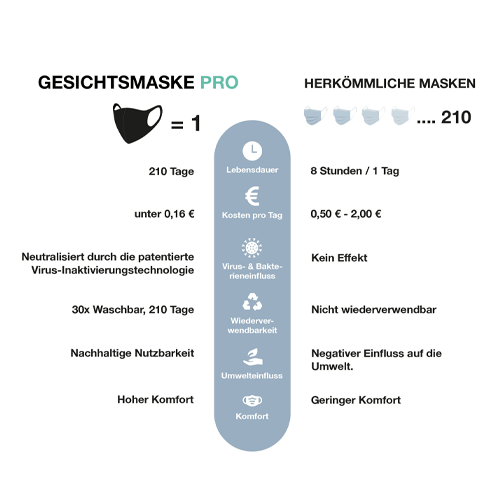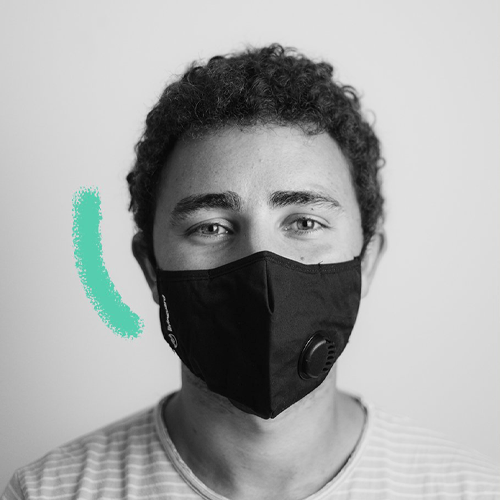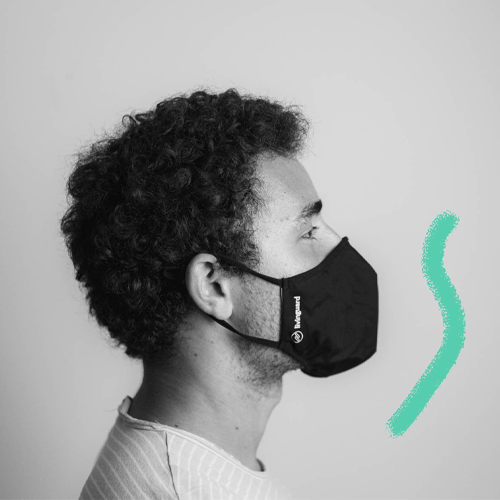 PRO MASK with anti-virus technology + breathing valve
❤️ Why we love the product
✓ 210 days reusable
✓ Washable 30 times with cold water
✓ Available in different sizes
Livinguard PRO MASK with breathing valve is a 3-layer face mask, features the patented and certified Livinguard fabric technology and a filter medium in the middle. This inactivates bacteria and viruses that flow through the Livinguard PRO MASK with breathing valve. Particularly high protection and more sustainable in use.
• Reusable for 210 days and washable in cold water 30 times, with excellent infection prevention for every use
• Equipped with adjustable ear straps for a personal fit

• The antiviral effectiveness of the Livinguard substance we use against SARS-CoV-2 (Covid-19) has been proven in studies at the RWTH Aachen University and the Free University of Berlin.
• Made from comfortable, soft material that's equipped for extended use
• Not a medical device
• Hygiene product and therefore non-returnable

Sizes:
We recommend the mask in size M for children over the age of 10 and women. We usually recommend for men to choose the mask in size L. However, please keep in mind that every face and every head shape is individual and there may be deviations. If you are unsure whether you have a small or large face, it is better to order the mask in size L, as the larger masks can also be put on very tightly using the ear straps.
Since the face masks are highly sensitive hygiene items, they cannot be exchanged after the goods have been opened.

1) Place the mask over your face with the nose clip up, covering your nose, mouth and chin.

2) Tighten the ear loops and put them on for a comfortable fit.

3) Adjust the mask so that it fits snugly and snugly over the face. Press the nose clip so that it hugs your nose.

4) To check the fit, place both hands over the mask and exhale sharply. If air is escaping above the nose, adjust the nose clip.


Consumer note:
The BfArM recommends wearing masks without an exhalation valve, as they offer greater protection from others. Masks with an exhalation valve primarily protect the wearer of the mask and are primarily intended for people who suffer from breathing difficulties, for example. Some airports and other facilities do not allow valved face masks to be worn. Before purchasing, please find out which requirements apply in your area of ​​activity/residence. Thank you.


Care instructions:
• Please do not use the Livinguard mask if the packaging is damaged.
• It is best to wash your Livinguard mask by hand in cold water (max. 30 °C) for approx. 2 minutes once a week or when required.
• Depending on the humidity, hang the face mask in a shady place for about 6-8 hours.
• Do not use detergent or bleach.
• Don't wring out your mask.
• Please do not put your face mask in dry cleaning.
• You can easily wash your Livinguard mask up to 30 times.
• Store the mask in a clean bag or box away from sunlight and away from heat.
WingGuard.de - Sustainable products for you and me
With WingGuard, you no longer have to guess or hope which products are good for you and your home. All products in our shop are subject to strict standards to be non-toxic, effective, sustainable and cruelty-free. As soon as you have found a product that you like, we will deliver it to your home in a CO2-neutral manner.
Sustainability belongs in the middle of society. We offer our customers the best shopping experience & naturally motivate them to lead a more sustainable lifestyle.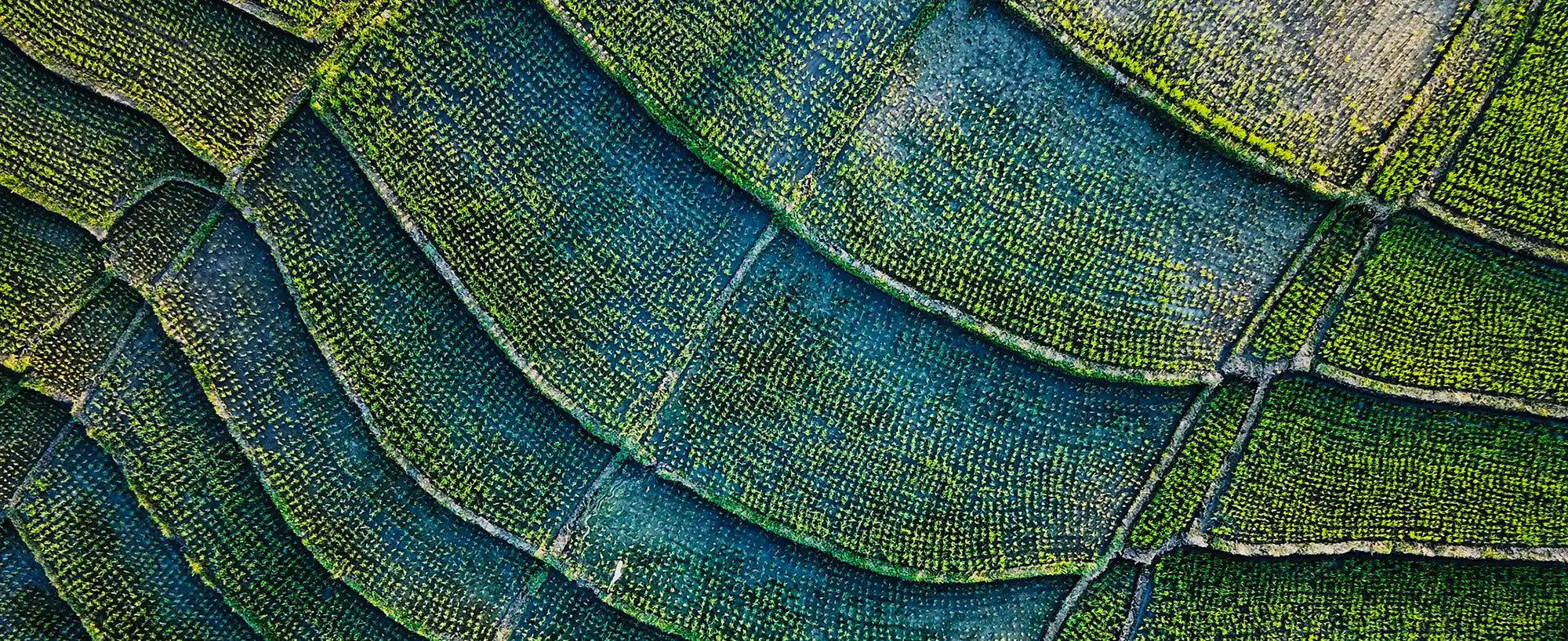 sustainability
As good for you & the planet as it gets
Sustainability is the origin and drive of our actions and thoughts. Therefore all products meet the WingGuard standard. We focus on security, transparency, sustainability and social responsibility. We always look at sustainability holistically. As a company, we are both climate and plastic neutral - across the entire supply chain.