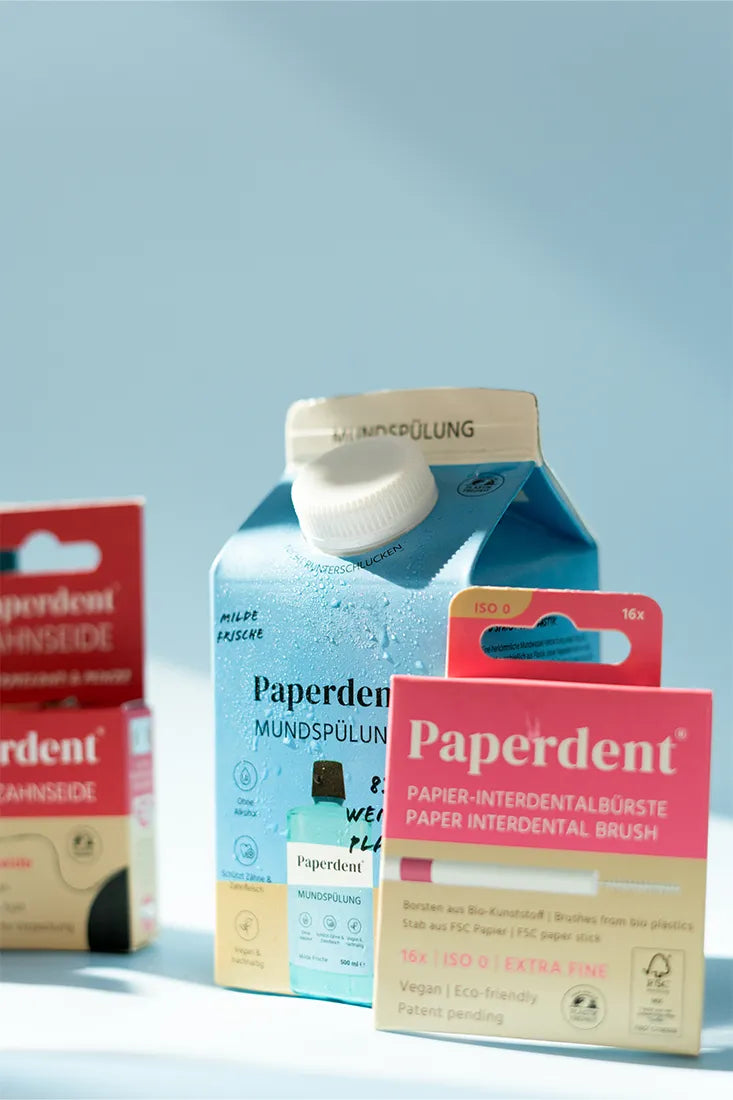 Our brand for sustainable dental care
Several million plastic dental care products end up in the garbage every year in Germany alone. Many of these, such as interdental brushes, are often used only once before being discarded. We think that doesn't have to be the case.
At Paperdent® we have adapted the materials used to the lifetime of the product without you having to forego quality and cleaning performance. With our dental floss in paper boxes, our interdental brushes with paper handles, our mouthwash in paper composite boxes and our toothbrush tabs in paper bags, we now offer you an ecological all-round solution for your oral care at home.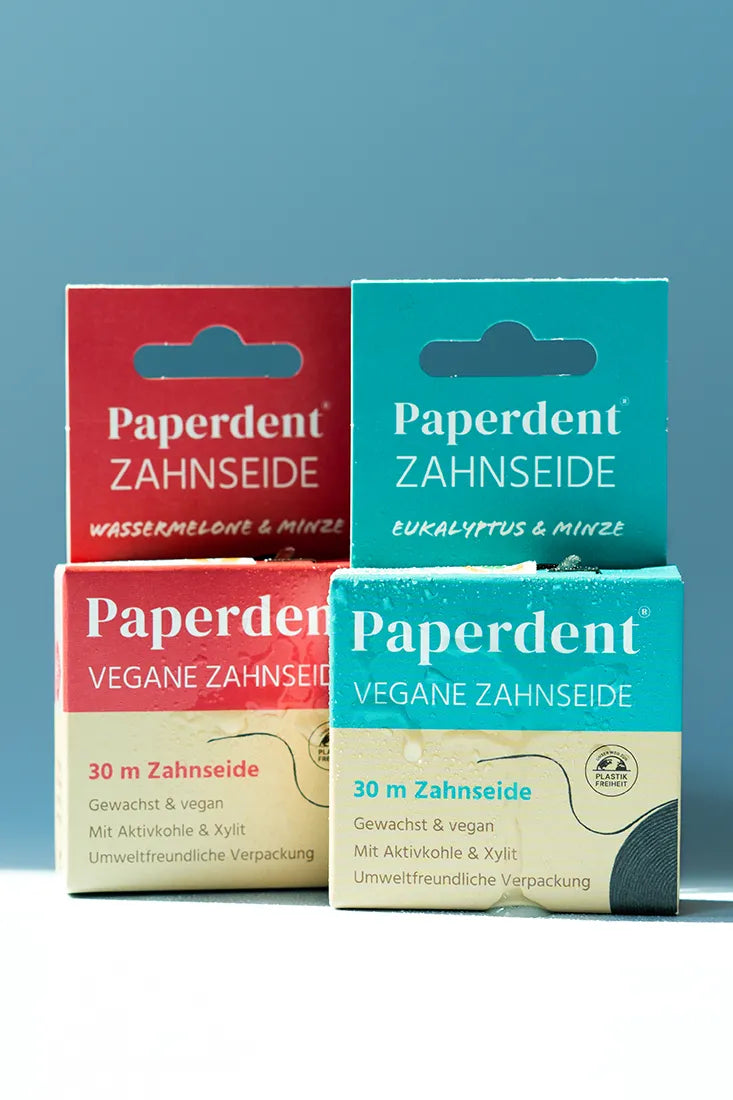 Old friends in a new outfit
One product is probably particularly familiar to you: our Paperdent® dental floss . In fact, nothing has changed about this product except the name. Only Paperdent® came out of Wingbrush. Because as the saying goes: "Never change a winning system!".
Our customers were more than satisfied and we took that to heart. After all, we do without the usual outer packaging and have designed our box in such a way that it is also a dental floss dispenser.
For reasons of hygiene, we cannot do without plastic packaging on the inside, but we have made sure to use a plastic that is based on cellulose instead of petroleum. As the icing on the cake, we produce and pack within the EU in order to be able to keep transport routes as short as possible.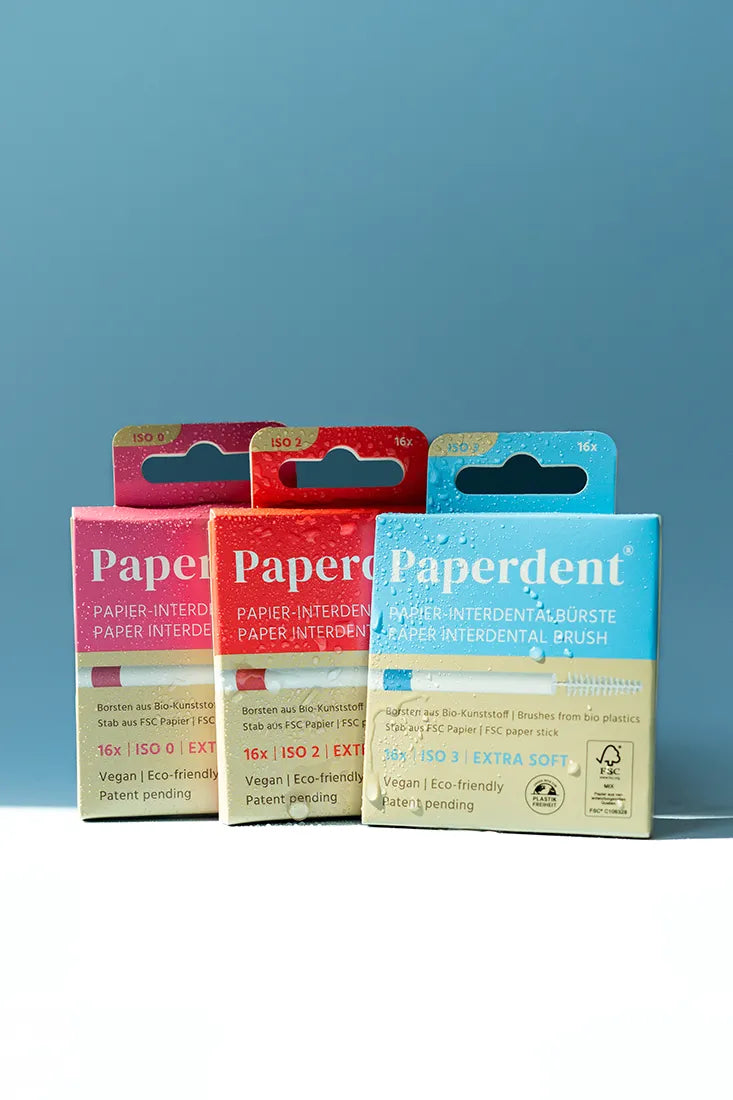 Everything is under control
For everyone who prefers to use interdental brushes instead of dental floss, we now have something up our sleeve: the Paperdent® interdental brush in the three most common ISO sizes. The special thing about them: Instead of plastic, the brush is firmly anchored in a paper handle. The brush itself is made of stainless steel and castor oil filaments.
So you may already notice that if we cannot do without plastic, we try to use environmentally friendly alternatives as much as possible. The handle, like the resealable packaging, is made of FSC-certified paper. The rolled paper not only gives the handle stability, but also the perfect shape to make it easier for you to clean the spaces between your teeth. You can also rotate our interdental brushes instead of back and forth. Despite the high stability of the handle, your gums are protected during use. Because the paper gives way before the brush buckles when overloaded or causes gum pain.
In our opinion, the Paperdent® interdental brush kills two birds with one stone. It reliably cleans your interdental spaces and is also better for our environment.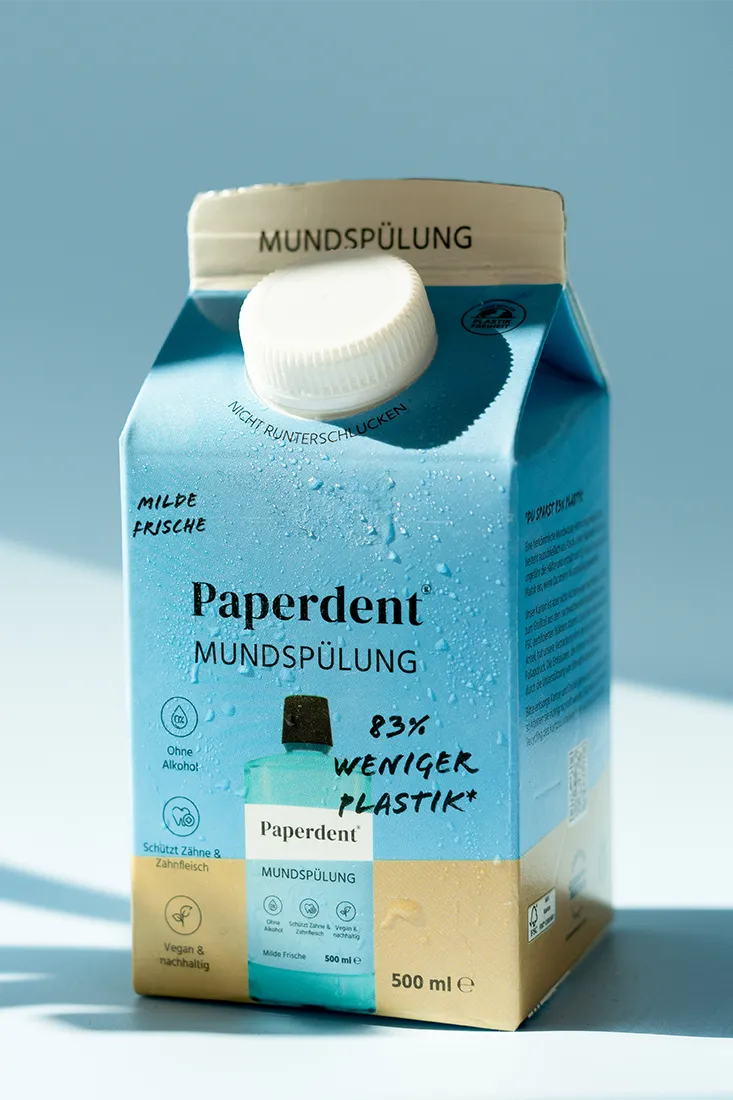 Thinking around the corner
Mild freshness without a guilty conscience. That was the idea behind our Paperdent® mouthwash in a square paper carton. And we have to say that for us it is the highlight of our new product line.
From a dental point of view, mouthwash is a useful addition to your oral care routine, but with daily use it is also a product that is used up in less than a month. What remains at the end is another plastic bottle. Our mouthwash carton, on the other hand, contains 83% less plastic than conventional mouthwash bottles and also weighs less on average. So we not only reduce the plastic content of our packaging, but also ensure more sustainable logistics. Similar to our dental floss, the mouthwash is also produced and packaged in the EU and is also vegan and alcohol-free.
If you are now wondering where the catch is. There is no. At least none that we know of. You get an efficient mouthwash like you're used to, only without all the unnecessary plastic.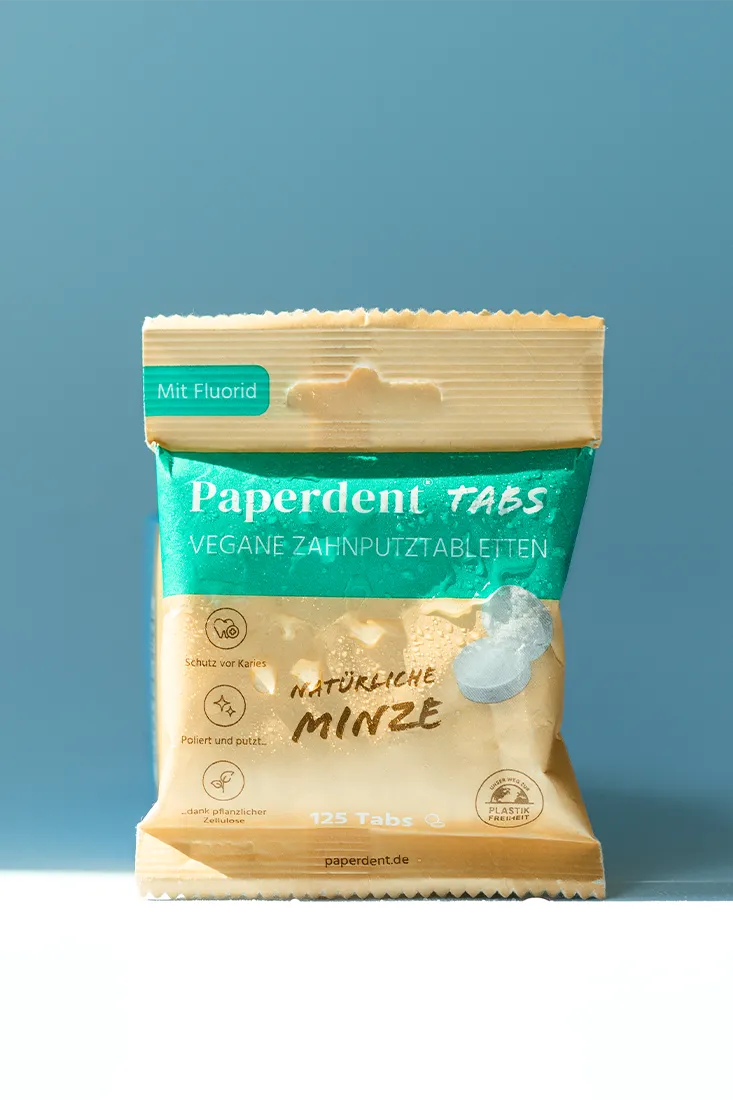 Three minutes that make the difference
With the small, round toothbrush tabs from Paperdent® you not only save yourself the discussion about the toothpaste tube that has not been closed, but also 80% packaging compared to conventional toothpaste. The total of 125 tabs also replace two tubes of toothpaste and on top of that they ensure the well-known radiant smile.
They can do everything that your classic toothpaste can do, including strengthening your tooth enamel thanks to fluoride, and they do not contain any microplastics or preservatives. Instead, it contains vegetable cellulose fibers that gently clean and polish your teeth and make new deposits more difficult. In addition, with the toothbrush tabs you not only save plastic, but also water. This not only saves resources, but also reduces CO2 emissions caused by transport. We can't do without plastic entirely either, as your tabs would otherwise soften over time. However, our paper packaging is industrially compostable.
But how do you actually use this toothbrush miracle? Very simple: you only have to chew one tab in your mouth (for those who are used to a lot of foam, you can also chew two tabs), moisten your toothbrush and brush your teeth as usual for two to three minutes. Zack, sustainability can be that simple.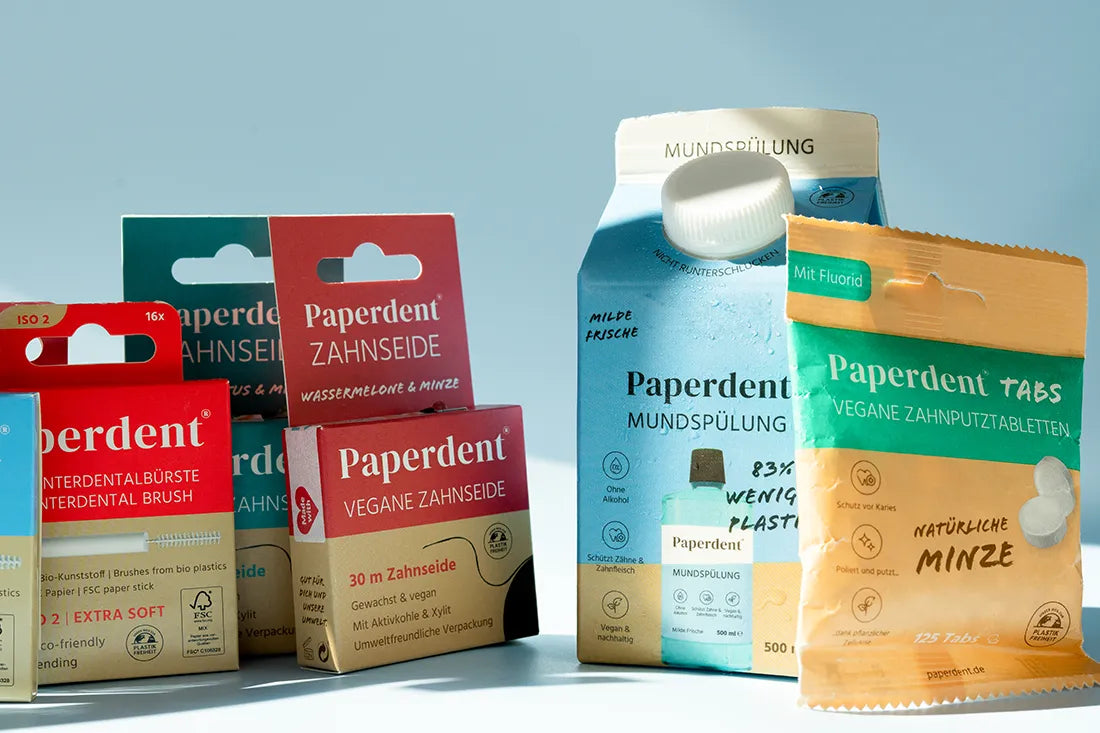 Paper is the new Plastic
With Paperdent® we want to revolutionize your dental care with paper instead of plastic. We are of the opinion that single-use plastic has no place in the mouth or in nature. That's why we not only work with experienced producers in the development and manufacture of our Paperdent® products, but also bring our own expertise with us. Thanks to our co-founder Louis, who not only brings product ideas but also specialist knowledge as a dentist.
Your smile for more sustainability
We hope that you will not only celebrate our Paperdent® dental care products as much as we do, but become part of the change. The best thing to do is to convince yourself and bring the sustainable Paperdent® dental care miracle home. Only together can we pave the way to freedom from plastic.